Visit Ladakh between May and September and you will see a large number of Thai tourists here. Number of tourists from Thailand travelling to Ladakh is increasing every year.
Be it religious, cultural, photography, adventure or just a family tour, Ladakh has everything to offer to one and all. The rich Buddhist culture and ancient Buddhist monasteries (gompas) of Ladakh have been a major attraction for tourists from Thailand. Leh Ladakh has hundreds of monasteries, many of which are over 500 year-old. Alchi, Likir, Lamayuru, Thiksey, Hemis, Diskit, Spituk, Stakna and Phyang are the most visited monasteries.
Ladakh is one of the most secure tourist destinations in the country. The region is safe for both Indian and foreigner nationals. While tourists from Pakistan and China are not allowed to visit Ladakh unless they get permission from Ministry of External Affairs (MEA), tourists from Thailand can visit Ladakh without need to get permission from MEA. However, all tourists – Indians and foreigners – are needed to obtain inner line permit to visit restricted areas from Leh administration at easy terms.
If you are from Thailand and wish to visit Ladakh, the first question that will come to your mind is "How to visit Leh Ladakh from Thailand?" Discover Leh Ladakh will guide you through some of the points that will help you in planning a hassle free and memorable trip to Ladakh.
How to reach Leh Ladakh from Thailand
Currently there is no direct flight from Thailand to Leh airport of Ladakh. If you get a connecting flight to Leh from Thailand then go for it. If layover is too long, you can easily book two separate flights after ensuring minimum layover time. Please remember, you will get direct flight to Leh only from Delhi, Mumbai, Chandigarh and Jammu cities of India.
If you are taking flight from Bangkok, Phuket, Krabi, Ko Samui, Chiang Mai or any airport of Thailand, best option is to book flight to Delhi or Mumbai airport. Book another direct flight from Mumbai or Delhi to Leh according to you convenience.
If you are planning a road journey from Manali (Manali-Leh road journey/jeep safari), book a direct flight to Delhi from where you will get luxury Volvo buses to Manali. You can book a private taxi as well. Second option is to come to Chandigarh airport from where you can take a bus or taxi to Manali. Manali to Leh road trip, covering many high mountain passes, is extremely thrilling and full of adventure and this distance is covered in two days by a SUV vehicle, with one night halt at Keylong, Jispa or Sarchu.
You can ask us to book your complete Thailand-Ladakh trip.
What to see?
There are dozens of places of interest for tourists. But we have a list of places which are of interest of Thail nationals. Shanti Stupa, Leh Palace, Hall of Fame, Spituk, Magnetic Hill Point, Sangam, Alchi monastery, Likir monastery, Khardungla pass, Nubra Valley (Diskit and Hunder), Diskit monastery, Pangong Lake, Hemis Monastery and Thiksey monastery are the major points of interest for Thailand tourists. This takes 6 to 7 days in Ladakh. If you have more time, you can visit Tso Moriri lake, Phyang monastery, Lamayuru monastery and Stakna monastery as well.
Inner Line Permit for Thailand nationals?
Ladakh shares its borders with China and Pakistan. Thailand nationals (all tourists, including Indian tourists) are required to obtain innerline permit to be able to visit restricted areas of Ladakh. These places include Pangong Lake, Khardungla, Nubra valley, Tso Moriri, Chushul, Dha, Hanu, Turtuk etc. Inner-line permits are available very easily. You can apply for permit online, take its printout, come to Leh, visit the concerned office, pay the fee and get the stamp on the permit paper. Or, best and easy option is to ask your travel agent to get the permit for you. You only need to send scanned copy of your passport by email. Please note that inner line permit is not free and authorities charge fees for this.
Taxi Service
If you are coming in peak season, get your taxi booked in advance. Otherwise, you can book it after coming to Leh. But we shall advice you to book the service in advance so that it comes to pick you up at airport, takes you to all sightseeing places and drops you off at airport. This way, you would avoid last moment unavailability problem as well. You can ask your travel agent to book the taxi for you. If you are buying a complete package, it will have taxi service included.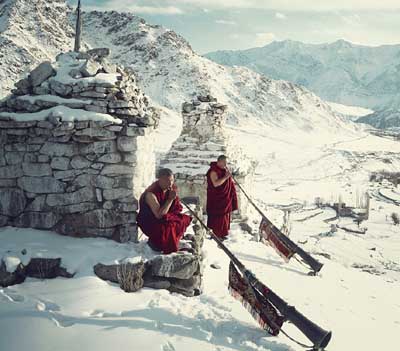 Check out our Ladakh Packages for Thailand Nationals
Hotels in Ladakh
From luxury to deluxe to standard, Ladakh has all kind of hotels. Depending on budget, interest or requirement, you can book a hotel of your choice. Booking a room in hotel of choice sometime becomes difficult during peak tourist season. So, book your hotel in advance. At Nubra valley, you can book a hotel or Swiss camp cottage/tent. At Pangong, you will stay in tents (Swiss tents) as the region has no hotel. Some tourists love to stay in family run homestays or guesthouses as well. Be it hotel, homestay, guesthouse or tent, it will be neat and clean with hygienic bathroom.
Food in Ladakh
Thailand nationals are little choosy about their meal. You will get all kind of meal in Ladakh. Vegetarian, non-vegetarian, Indian, Chinese, Thai, Continental foods are available at many places. You will see a lot of restaurants in Ladakh serving multi-cuisines. We shall suggest you to book your hotel with MAP (breakfast and dinner) as you will be hygienic meal at your hotel. Don't book your lunch at hotel as you will be travelling every day. We also do not suggest taking a pack-lunch with you. You will see a lot of restaurants, dhabas, eateries at many places while going to a sightseeing place. Give it a try and have meal of your choice in the lunch. Driver will help you find a better place to eat.
Guide for Thailand Tourists
Generally you need not to hire a tourist guide unless you are interested in deep history of a particular place/monument/monastery. Our driver will take you to all the places himself. Most of the tourists do not hire any guide. But, if you want a dedicated guide, you can hire one English speaking tourist guide who will explain the history and importance of all the places.
Language in Ladakh
Generally Ladakh residents speak Ladakhi language. They also speak Hindi, some Tibetan and Urdu. Many people here understand, speak and write good English but unfortunately nobody knows Thai languages. The drivers here understand little English and also speak broken-English.
Shopping
You can try some shopping in Leh market. Main bazaar is the main shopping area of the city where you can buy all kind of material like dresses, electronics, crockery and variety of souvenirs. Give a try to the local dry fruits. Local dresses and ornaments are also available in the market.
---Stay tuned to get fresh updates---