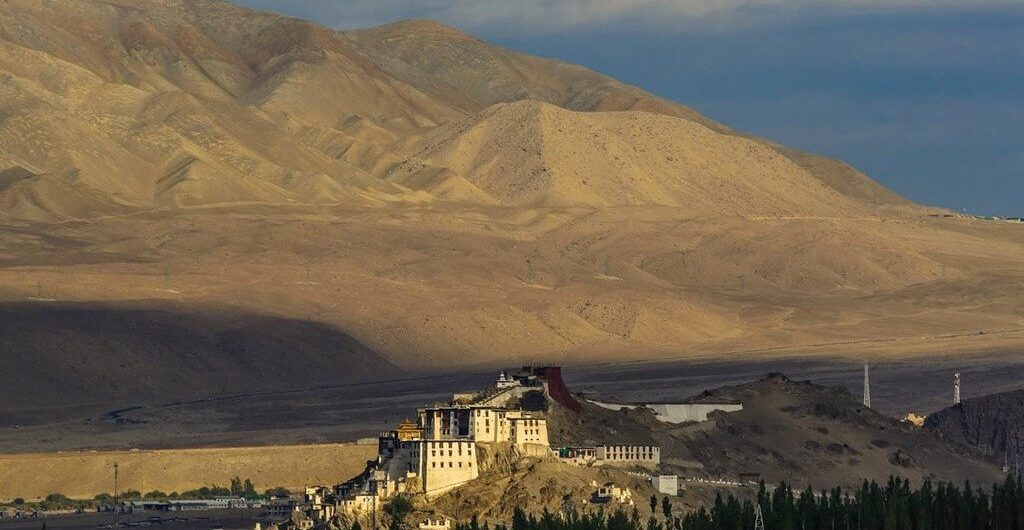 Spituk Monastery is a Buddhist monastery in Western end of Leh in Ladakh on Leh-Kargil-Srinagar highway, about 6 km from the main town. Above the monastery, on the hilltop, is Kali Mata Temple where Goddess Kali is enshrined.
The Spituk monastery is close to the Leh airfield and west to Hall of Fame. It offers panoramic view of entire Leh town. One can also see Shanti Stupa, Leh Palace and Namgyal Tsemo Monastery from here. The site of Spituk was blessed by the Arhat Nyimagung. It was founded by Od-de, the elder brother of Lha Lama Changchub Od when he came to Maryul in the 11th Century. He introduced the monastic community.
When Lotsewa Rinchen Zangpo (Translator) came to that place he said that an exemplary religious community would arise there and so the monastery was called Spituk (exemplary). During the time of Dharma raja Gragspa Bum-Ide the monastery was restored by Lama Lhawang Lodos and the stainless order of Tsonkhapa was introduced and it has remained intact as such till present.
Founded as a Red Hat institution, the Spituk monastery was taken over by the Yellow Hat sect in the 15th century. The monastery contains 100 monks and a giant statue of Kali Mata which is unveiled during the annual Spituk festival. Otherwise the idol remains covered with a cloth. Gustor Festival is held at Spituk from the 27th to 29th day in the eleventh month of the Tibetan calendar every year.
While doing sightseeing around Leh, Spiti gompa and Kali Mata temple will come between Hall of Fame and Gurudwara Pathar Sahib. The gompa due to its location in the lower end of the Leh town offers amazing view of entire town along with airport, Leh palace, Shanti Stupa, Tsemo Fort and Khardungla ranges. The monastery is visited by thousands of tourists every year, especially for photography.
How to reach Spituk Monastery
The Spituk Gompa can be seen from almost everywhere from Leh town, so reaching here should not be a difficult task. However, it is nearly 6km from the main town. If you follow Leh-Srinagar highway, it appears in the left hand side, with a 100m long link road taking you to the parking in the base of the monastery.
Best time to visit Spituk Monastery
Being located in the Leh town, you can easily get access to the gompa 12 months in a year.