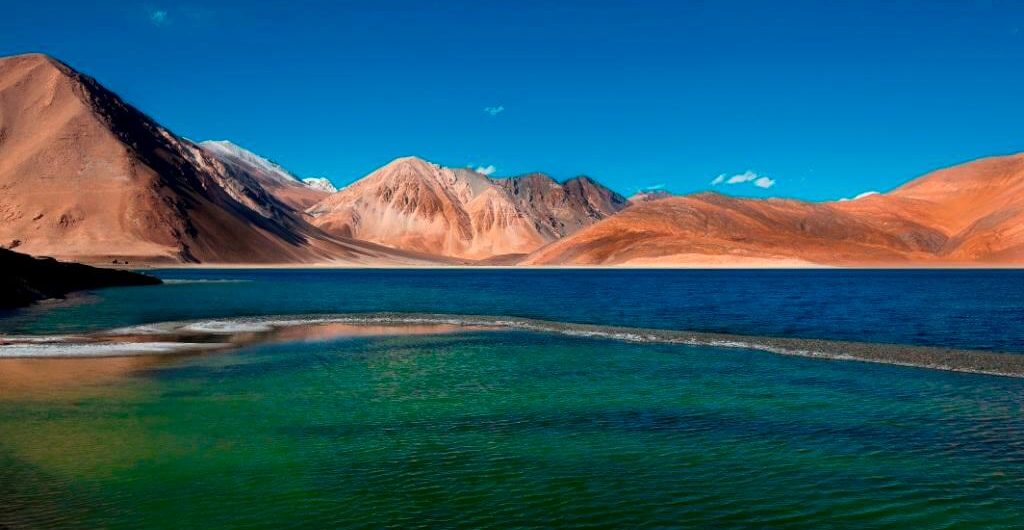 Pangong Lake or Pangong Tso is a high altitude lake that is famous for its beautiful blue water which seems to changing its colour three to four times a day since dawn to dusk due to golden mountains and sunrays.
The Pangong lake is about 150 KM from Leh and is accessible after a 5-hour drive, traversing the 17,590 ft (5,360 m) high Changla pass (Chang-la). Pangong Lake is at an altitude of about 14,250 ft (4,350 m). The lake is 134 km in length and 5 km wide at its broadest point and India-Sino Actual Line of Control passes through it. Nearly 60% length of Pangong Tso lies in China occupied area. Pangong Lake is a saline water lake. The lake water freezes completely during winter months. A thick layer of frost covers the waters, making lake walkable.
Pangong lake waters are not favourable for aquatic life but thousands of migratory words come here for breeding. Tourists are required to obtain inner line permit to visit the lake. Thousands of tourists visit the lake during peak season between April and September. However, the lake can be reached even during winter months. Pangong is the first choice of tourists visiting Ladakh.
Pangong Lake was a must-visit tourist destination of Ladakh for years but it was Bollywood movie 3 Idiots that popularised Pangong among tourists. The climax of 3 Idiot was shot at Pangong. The number of tourists visiting the lake increased suddenly after the movie was released.
Tourists visit Pangong Lake for photography, pre-wedding shoots, and migratory bird watching. Tourists enjoy the beauty of the blue waters which looks similar to a sea in the Himalayas. A large number of film units also visit the lake for shooting. Stargazing is another activity for which tourists visit Pangong.
Spangmik, Man and Merak villages on the bank of the lake have many homestays to spend a comfortable night. However, most of the tourists prefer staying in seasonal Swiss camps.