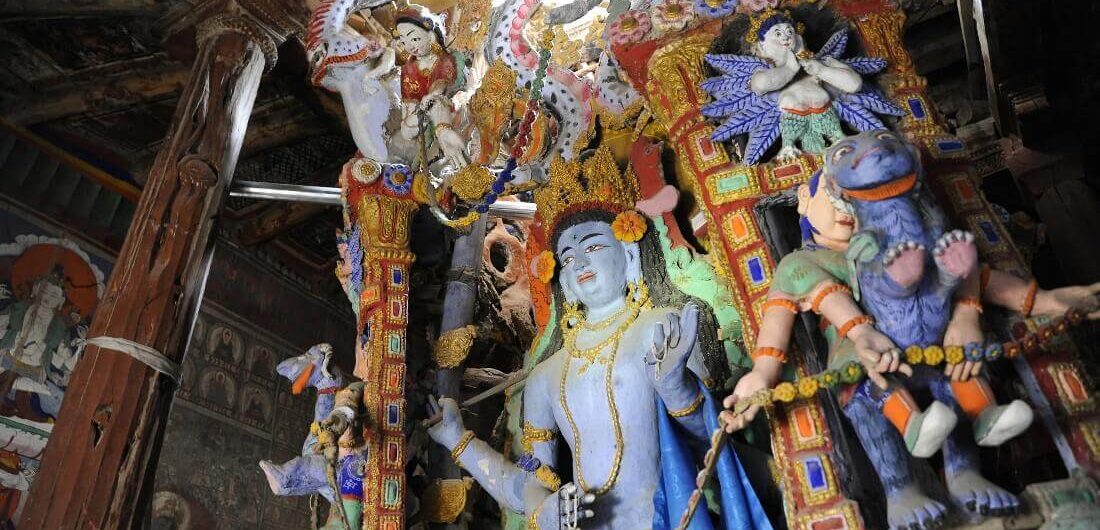 Alchi Monastery is situated in Alchi village near Leh. Alchi is a beautiful village in Leh district of Ladakh, about 65 km from Leh and is situated close to the bank of Indus river in Khalsi tehsil. Alchi village is famous for Alchi monastery (gompa), which is the oldest monastery of the Ladakh.
Alchi is known as monastic complex of temples. The village has four separate settlements with monuments which are dated to different periods. Alchi monastery is administered by Likir Monastery of Ladakh. According to historians, the Alchi complex was built by the great known translator Guru Rinchen Zangpo between 958 and 1055. However, inscriptions in the preserved monuments ascribe it to a Tibetan noble called Kal-dan Shes-rab later in the 11th century.
Dukhang or Assembly Hall and the Main Temple, which is a three-storied temple called the Sumtseg, are built in Kashmiri style as seen in many monasteries. The third temple is called the Manjushri Temple. Chortens are also an important part of the complex. A lot of apricot trees can be seen in the complex.  The artistic and spiritual details of both Buddhism and the Hindu kings of that time in Kashmir are reflected in the wall paintings in the monastery. These are some of the oldest surviving paintings in Ladakh.
The Alchi monastery complex also has huge statues of the Buddha and elaborate wood carvings and art-work comparable to the baroque style. Alchi can be reached while travelling between Kargil and Leh. It's about 65 kilometres from Leh towards Kargil. One has to cross a bridge over Indus River and then the village is about 2km from there. Alchi village has many souvenir shops selling artifacts related to Buddhism. Parking is in the middle of the village and from there its 2 minute walk till the main monastery complex.
Alchi monastery is one of the main tourist destinations of Ladakh. Some tourists visit Alchi monastery while travelling between Leh and Kargil/Srinagar, some visits it during local sightseeing along with Likir, Sangam, Magnetic Hill, Pathar Sahib Gurudwara.