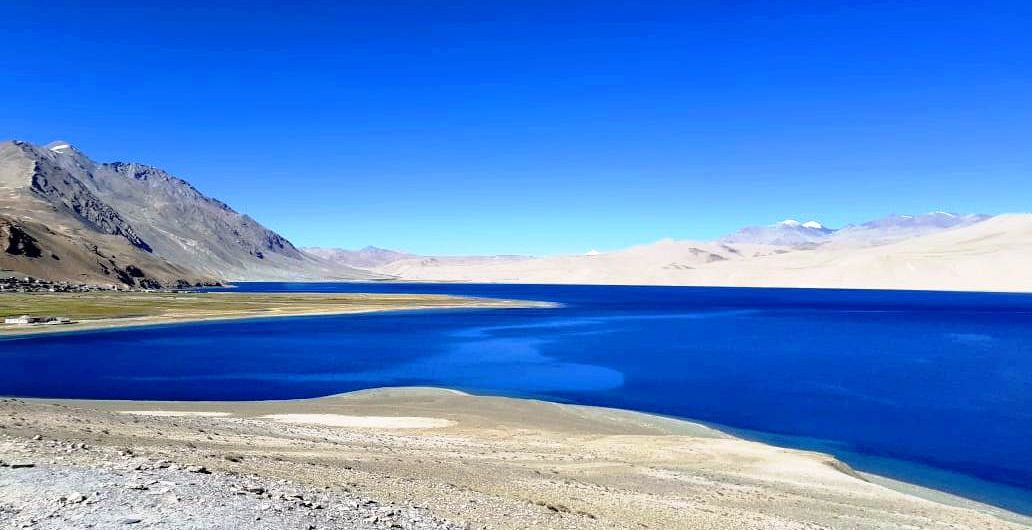 At an altitude of about 14,835 ft from sea level and 240 km from Leh, Tso Moriri Lake is located in Changthang plateau of Ladakh in India, having a maximum length of 19km and a maximum width of 3km.
The lake is very deep with maximum depth at a point up to 350 ft (106m). Tsomoriri lake is said to be the largest of the high altitude lakes in India in the trans-Himalayan biogeographic region. Officially the lake is now known as Tso Moriri Wetland Conservation Reserve. The bluish crystal clear water of Tsomoriri lake mesmerizes the visitors. Korzok village which inhabits a large number of people is situated by the bank of the lake. An Indian Army post is also situated by the bank of the lake and at the gateway to the village.
An entry with the military post is must before entering the village. Tso means lake in Tibetan language. So, many people call it Moriri lake. Tso Moriri Lake is mostly accessible only during summer months but the villagers and military stay here round the year. The region had no telephone connectivity until recent when a small BSNL tower was established here. The village is given power supply during night time by a power generator maintained by Indian Army.
A large number of homestay units, hotels and camping sites have come up in the village in the recent past.  Villagers cultivate peas, barley and potato by the bank of the lake. A 400-year-old Korzok Monastery is also worth visiting for tourists and pilgrims. The lake is fed by the melting of snow and spring waters. The lake has no outlet, so it does not give birth to any water stream or river.
A large number of migratory birds, especially from Siberia, come to Tso Moriri Lake for breeding. The surface of Tsomoriri lake freezes completely during harsh winter months and villagers and their cattle walk on its frozen surface to cross the lake without any problem.
How To Reach Tso Moriri Lake
Most convenient way to reach Tso Moriri from Leh is via Chumathang and Mahe Bridge. If you are coming from Manali, you can choose the shortest road via Tsokar lake and Puga Hot Water Springs. The third road leading to Tso Moriri Lake starts from Pangong Lake via Man, Merak, Chushul, Rezang-la, Loma and Mahe Bridge.
Best Time To Visit Tso Moriri Lake
The best season to visit Tsomoriri is mid-May to September. You can visit the lake in October, late April or early May but morning, evening and night temperature will be too low during that time. The water starts freezing by end of September.
Hotels at Tso Moriri Lake
Korzok village, settled at the bank of Tso Moriri lake, has many homestay units being run by the local residents. Many locals and people from Leh establish seasonal tourist camps at different locals in and near the village. The village now has two hotels.
Inner Line Permit to Visit Tso Moriri Lake
You need to have an inner line permit to visit Tso Moriri Lake. If you are coming from Manali side via Tsokar and Puga, then you need to show the permit at the entry point to Korzok only. If you are coming from Leh via Mahe Bridge, then you need to show it at Mahe Bridge and Korzok. Remember if you are coming to Tsomoriri via Pangong, Man, Merak, Chushul, Tsaga La, you need to obtain a special permit to use this route as well. And you should have at least 6-7 copies of the permit which you need to submit at the traffic check posts established by Army and ITBP.