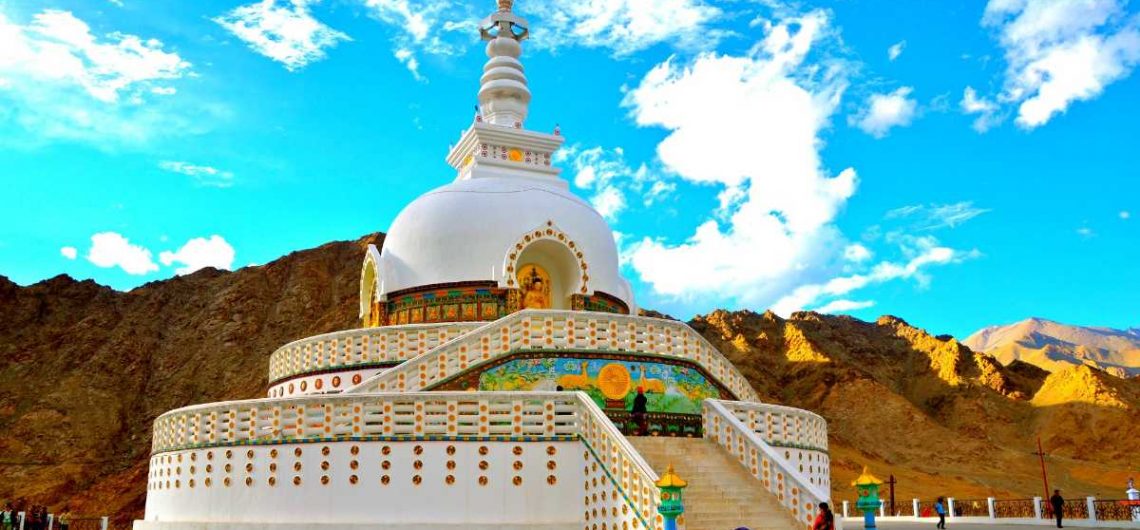 Shanti Stupa (Peace temple) located at upper corner of Leh at Changspa (Chanspa) has emerged as one of the new tourist destinations of Leh.
The stupa was built by both Japanese and Ladakhi Buddhists in 1991. Shanti Stupa has relics of Buddha at its base that were enshrined by the 14th Dalai Lama. Stupa has religious significance for Buddhists and is built on a hill top.
Its construction started in 1983 and a road to the stupa was built two years later. Those who love trekking can climb up the steep stairs to reach it. Otherwise, it is well connected by road as well. Shanti Stupa became a popular tourist destination due to its high altitude location from the Leh city from where one can get panoramic view of the entire city and its surrounding mountains.
Leh Palace, Tsemo Gompa, Polo Ground, Main Leh Market and almost all parts of Leh are visible from Shanti Stupa. Tourists generally throng here in the evening time to enjoy the sunset. Most tourists prefer reaching here on foot as it is just 1.5km from the main market.