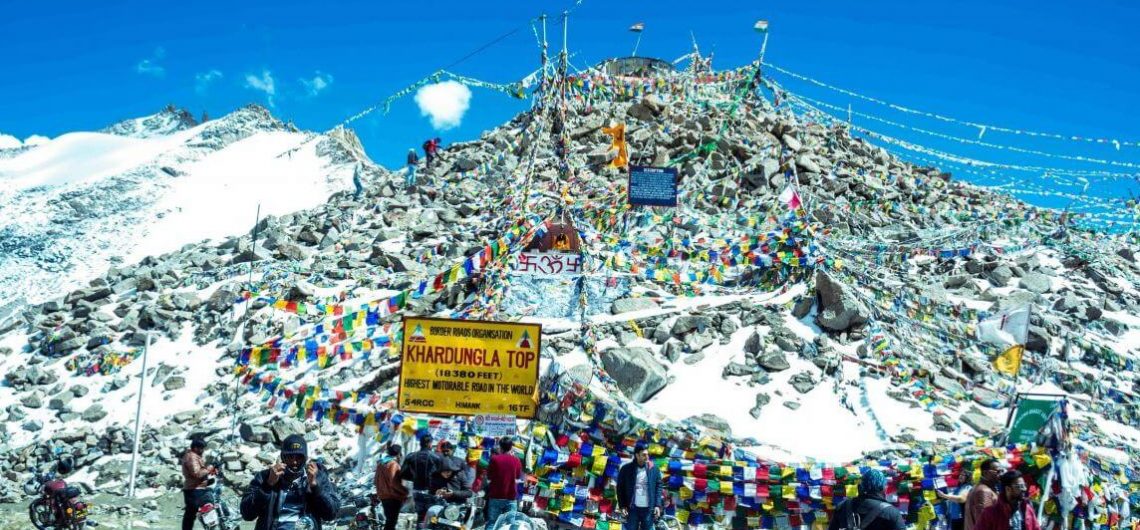 Khardungla pass or KhardonglaPass is some 38km north of Leh city and is reachable after tricky road having high gradient and many hairpin bends.
Khardungla pass is at an altitude of 18,380 ft from mean sea level. Leh-Khardungla pass –Nubra road is known to be amongst a few of the highest roads in the world and the highest road of India. Thousands of tourists visit Khardungla pass for its specialty of being so high and mighty.
A large number of motorbike riders from across the world come to Khardungla pass to set their personal records for riding above 18,000 feet. Indian Army has a post on the Khardung-la top and view from Khardungla is amazing as one can have a wider view of the mountain ranges.
Khardungla pass separates Leh valley from Nubra sub-division of Leh district. Depending on conditions, Leh to Khardungla pass is 60 to 90 minutes drive.
One needs to have Inner Line Permit/Restricted Area Permit to visit Khardungla pass. The permit will be checked on either side of the pass at North Pullu and South Pullu. Khardungla pass is also a gateway to Nubra valley and Siachen Glacier, the highest battlefield in the world.
Khardung village, after which the pass has been named, lies in the north of the pass in the base.
Khardongla pass gained its popularity after claiming to be the highest motorable road of the world. However, now Ladakh has even higher motorable passes like Umling La Pass (19,300ft) in the Eastern Ladakh. Being strategically sensitive, Umling-la pass is currently a restricted area where tourists are not being allowed.
Khardung-la pass can be reached anytime in the year. Tourists can get to see snow at Khardungla almost round the year. Being too cold, especially during night (and evening and morning), driving through the pass is considered dangerous as a layer of frost covers the road, making it extremely slippery for vehicles.