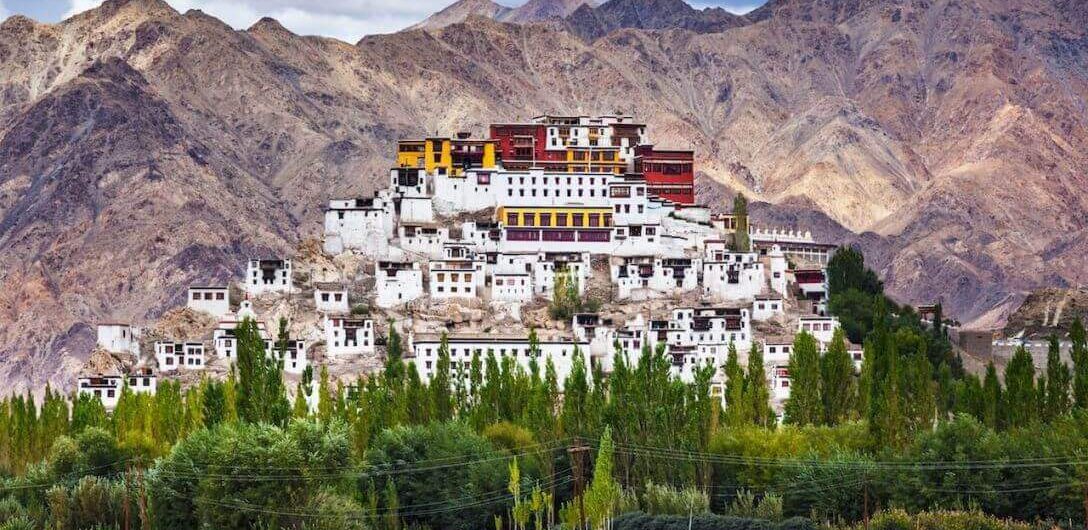 Thiksey Monastery (Or Thikse or Thiksay monastery) is located on a hilltop in Thiksey village and the monastery is affiliated with the Gelug sect of Tibetan Buddhism. Thiksey is about 20km east of Leh town of Ladakh on Leh-Manali National Highway.
The structure and architecture of Thiksey Gompa resembles with Potala Palace of Lhasa, Tibet. The monastery houses Buddhist art items like thangka paitings, arms like swords, stupas and statues. The monastery has about 50ft high statue of Maitreya. This gompa has become a major attraction in Ladakh due to its mesmerizing structure on a hilltop and on the hill faces.
An annual festival held in the monastery precincts is known as the Gustor ritual, which is held from the 17th to 19th day of the ninth month of the Tibetan calendar (October–November). Sacred dances such as the mask dance or Cham Dance are performed as a part of this ritual. Another special feature is the trade fair held at the base of the monastery, in which villagers from all over Ladakh assemble to barter and trade items and socialize.
The morning prayers at 7am, with synchronized chanting of the Buddhist sūtras at Thiksey monastery, attract many worshippers to observe the services. Facilities such as medical clinic, hotel & restaurant, souvenir shops etc are available at Thiksey. A fee of Rs 20 is charged for entry to the monastery.
Thiskey monastery is sometimes mistaken for Kee Gompa of Spiti valley in Himachal Pradesh. The monastery is visible from the Leh-Manali national highway.
Thiksey is one of the most visited monasteries of Ladakh. However, many tourists just take the photograph of the outer complex from the base (road). Tourists can visit Thiksey monastery while going or coming back from Pangong Lake. Along with Thiksey, Hemis monastery and Shey palace can also be visited on the same day.