Srinagar - Leh Road (2020):
CLOSE
Manali - Leh Road (2020):

CLOSE



Excerpt:
20 Feb, 2020: Snow clearance on Manali-Leh highway starts officially after performing puja at Rahla fall near Manali and Darcha in Lahaul. Two BRO teams have moved towards Rohtang and Baralacha pass.
18 Feb, 2020: BRO starts clearing snow from Manali-Leh highway. The official snow clearance operation will start this week.
27 Dec, 2019: Rescue posts from both sides of Rohtang pass along Manali-Leh highway have shut as the pass is closed for both pedestrians and vehicular movement.
09 Dec, 2019: BRO again cleared snow from Manali-Rohtang-Keylong stretch. Keylong-Leh stretch likely to open by May end. More snowfall predicted from Dec 11.
21 Nov, 2019: After heavy snowfall of November 14 and 15, another spell of snowfall has started at Rohtang pass and Baralacha pass. One oil tanker has stranded at Rohtang.
11 Nov, 2019: BRO cleared snow from Manali-Rohtang-Keylong stretch but Keylong-Leh stretch will remain closed during winter months.
07 Nov, 2019: Very heavy snowfall at Rohtang la and Baralacha la has again blocked the complete highway.
03 Nov, 2019: Fresh snowfall at Rohtang pass and Baralacha pass has blocked the Manali-Keylong-Leh highway. Traffic movement is allowed only till Gulaba. Manali-Keylong stretch will open shortly but Keylong-Leh stretch will open in the next season. More snowfall is in store in the next week.
15 oct, 2019: The Manali-Leh highway has closed officially for the year 2019-20. Police have removed posts from Sarchu, Darcha and Koksar. The highway has become slippery due to deposit of ice on road. Snow on Baralacha has made road slippery. The road will now open in May/June 2020.
Update on February 20, 2020
Official snow clearance operations start on Manali-Leh highway
The snow clearance operations on Manali-Leh highway have started after Border Roads Organization (BRO) on Thursday performed traditional puja near Rahla fall above Gulaba, 25km from Manali, for the safety of its jawans and machines. Similar puja was conducted at Darcha in Lahaul valley on Wednesday.
Currently two teams – one towards Baralacha pass and one towards Rohtang pass -- are engaged in snow clearing operations. Last year the puja to start snow clearance officially had started on March 25, but this year the snow clearance has begun a month in advance thanks to pleasant weather and rise in temperature. Chief engineer of Project Deepak of BRO Brig MS Baghi, 38 Border Road Task Force commander Col Uma Shankar performed the puja near Rahla fall, about 25km from here, in presence of other officials and jawans. The puja is performed for the safety of jawans and machines.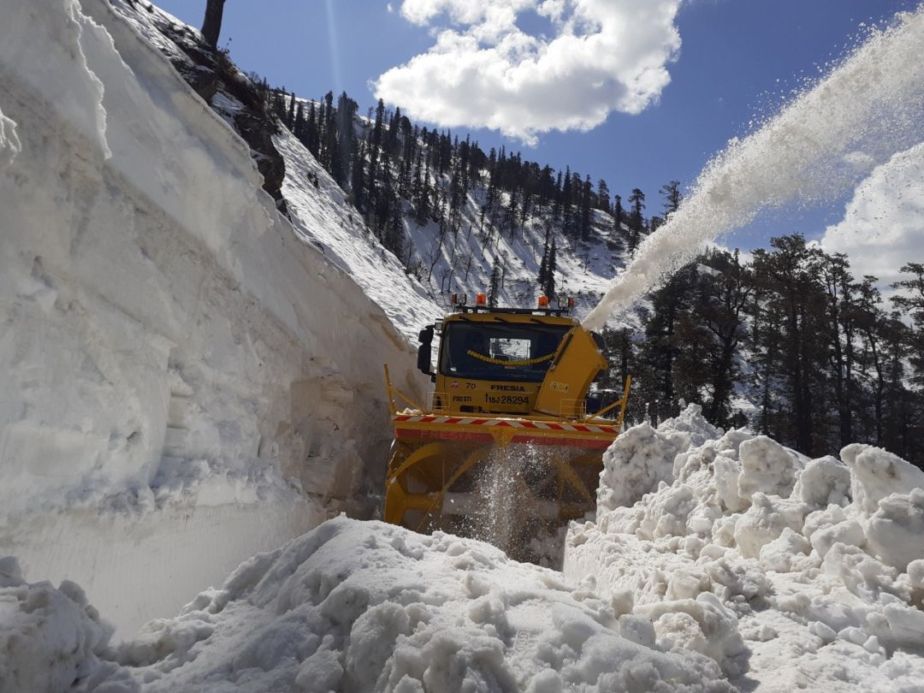 Col Uma Shankar said currently three units of jawans are working on different locations. "A unit is moving towards Baralacha pass. Second unit is moving towards Rohtang pass from Manali side. Another unit will start moving towards Rohtang from Koksar side in the next week and we have started shifting machineries to Koksar where temperature is too low. We are planning to move fourth unit from Sarchu towards Baralacha. Jawans at each site are equipped with two dozer, two snow cutter, two excavators and one or two JCB machines."
The lower regions of Rohtang have 3 to 10ft of snow depth and it is 10 to 20ft at avalanche-hit and shady zones. The temperature in the region is still too low. The snow from nearly 12km stretch between Kothi and Rahla has already been removed by jawans. Many avalanches have hit the highway which is going to be a major challenge to clear. Once the Manali-Sarchu stretch is connected, the traffic will move on Manali-Leh highway. After opening of this strategically important highway, BRO will concentrate on opening of Kunzum pass.
Baghi added that even after opening of the Rohtang tunnel for general traffic movement this year, BRO will continue to maintain Rohtang pass which otherwise would be bypassed by most travellers.
16,050ft high Baralacha, where snow depth is more than Rohtang pass, is the highest point between Manali and Sarchu and always remains the challenge before engineers. While Baralacha pass receives more snow, maintaining Rohtang pass is technically very difficult. The 222km-long stretch of the Manali-Leh highway till Sarchu receive very heavy snow in winter months. BRO maintains this stretch under its Project Deepak.
Manali-Leh highway may open a month in advance
After performing puja on Thursday to start snow clearance operations to open Rohtang pass road, the Border Roads Organization (BRO) officials said both Rohtang and Baralacha would be thrown open for vehicular traffic a month in advance.
"We are expecting to open the highway till Sarchu at least one month in advance. However, it will totally depend on weather conditions in coming days as heavy snowfall may slow down the works. We cannot predict an exact deadline. We shall work hard to resume traffic in May. The new machines are giving double output which is helping us a lot," Brig MS Baghi said.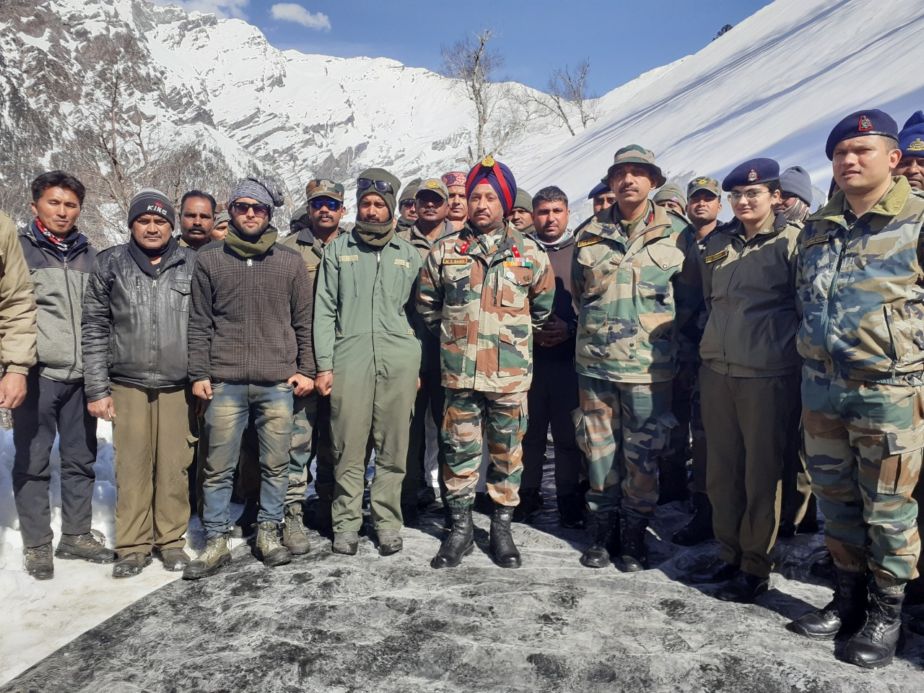 BRO uses tele-operated dozer prototype to clear avalanches
To ensure safety of dozer operators and helpers who are often hit by avalanches and slides, the Border Roads Organization (BRO) is using a tele-operated dozer that is recently developed by Combat Vehicles Research and Development Establishment (CVRDE), Chennai.
The unmanned dozer prototype, which can be operated manually also, is on its trial on Manali-Rohtang highway. The mechanism is working perfectly so far. The dozer is clearing snow beyond Gulaba towards Rohtang pass. It can be operated remotely from distance of 500m. The machine is put on remote operation mode if BRO engineers think that working on a particular stretch of the road involves risk to life of the operator.
Brig MS Baghi, chief engineer of Project Deepak of BRO, said the prototype is on its trial. "The mechanism has been developed by CVRDE, the Chennai based laboratory of Defence Research and Development Organization (DRDO). We shall use the technology for the safety of our jawans. If there is any avalanche site or snow sliding point, the unmanned dozer will minimize the risk of loss to human life," he said.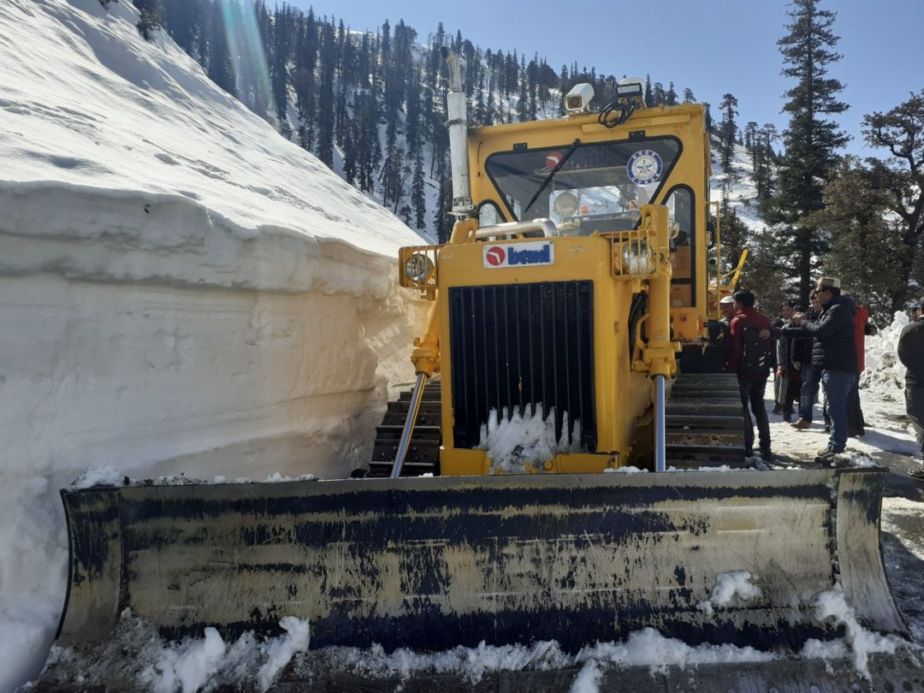 Besides tele-operated dozer, BRO has bought an Italian made snow-blower "Fresia" which removes double the amount of snow than the conventional snow cutter machines. Costing about Rs 3cr, the machine is heavy, stable and has larger auger with more clearing width. The machine blows off snow up to more than 50ft away from the road.
Baghi added that the organization is taking advantage of both the machines and can clear snow from Rohtang pass and Baralacha very soon. "Once the snow is cleared from Manali-Rohtang-Koksar stretch, we may send the machines to help the teams at Baralacha pass."
Update on February 18, 2020
BRO starts snow clearance on Manali-Leh highway
The Border Roads Organization (BRO) has started snow clearance operations on the strategically important Manali-Leh highway for the first time in February. The official snow clearing task in multi stages will start in a few days, an official said.
The official snow clearance on the highway generally starts in March month after worship at Gulaba, 23km from here. Aiming early opening of the highway for vehicular movement, the BRO officials said if everything goes right, they will start clearing snow officially from February 20. The 38 Border Road Task Force (BRTF) is responsible for clearing snow between Manali and Sarchu, the toughest part of the highway.
38 BRTF commander Col Uma Shankar said, "We have already started clearing snow from Kothi towards Rohtang pass. The traditional puja for the safety of jawans and machines is scheduled for February 20. The exact date is still to be finalized," he said.
Taking advantage of the dry weather conditions, the BRO jawans have cleared snow till Gulaba and its machines are advancing towards Marhi below Rohtang pass. The highway in Lahaul valley is also cleared of snow. To finish the task in time, two teams will advance towards Rohtang pass from both sides while another team will move towards Sarchu.
The machines are cutting 3 to 5ft of snow at Gulaba. Snow accumulation at some places on the highway is expected to be more than 30ft. The avalanches may also have damaged the highway at some places. The 274km-long Manali-Leh highway opens to traffic in end of the May every year.
Update on December 27, 2019
Rescue posts removed from both sides of Rohtang pass
The two rescue posts established on either side of Rohtang pass along Manali-Leh highway to monitor movement of vehicles and pedestrians in the area have been closed on Friday, an official told Discover Leh Ladakh.
The Rohtang pass is closed for both pedestrians and vehicular movement and the Manali-Keylong highway will open in April or May next year. The pass is covered with over 10ft deep snow, making it impossible for people to traverse it. So, both rescue posts from Marhi in Manali and Koksar in Lahaul have been shut for few months.
Lahaul-Spiti deputy commissioner KK Saroch said the posts have been shut and the staff has returned back to their offices. "People, including tourists, have been advised not to risk life by attempting to traverse Rohtang pass on foot. Nobody will be available in the region to help them in case of emergency. The road is already blocked with snow," he said.
Both the posts would be re-established at the end of the winter when Rohtang pass would become safe for pedestrians. The staff at both the posts will help people in crossing the pass safely. The posts will then remain functional until traffic movement on Manali-Leh highway becomes safe and regular. Each post is manned with mountaineers, rescue experts, police, medical expert, radio operator and cook.
Update on December 09, 2019
BRO jawans risk life at Rohtang; face avalanches, blizzards
Covered with several feet of snow, the Rohtang area on Manali-Leh highway is badly hit by avalanches and blizzards which are posing great threat to the lives of a large number of jawans of Border Roads Organization (BRO) working here.
Tourists want to experience the daunting road journey on Manali-Leh highway but they don't know how difficult it is to maintain this highway. And how BRO struggles to clear snow from the highway which remains blocked between November and May every year. While Keylong-Leh stretch of the highway is completely blocked till next summer season, BRO is trying to keep the Manali-Keylong stretch open as long as possible for the convenience of the residents of the area.
Nobody dares to go close to Rohtang pass in winters after heavy snowfall as the pass is notorious for killing a large number of people due to its extreme weather. Rahni nullah area near Rohtang has been hit by multiple avalanches. The blizzards during day and night are so mighty that they even push the heavy machines like snow cutters. The temperature here has dipped below minus 20 degrees C and high velocity winds are making it difficult for jawans to stand stable at one place.
BRO released a similar video footage of Sunday night when blizzards are pushing away a snow cutter and the jawans are trying to secure the expensive machine with help of an earth mover machine.
In effort to provide relief to residents of Lahaul valley who have stuck in their villages since November 25 after Rohtang tunnel was closed for vehicular traffic, 38 Border Road Task Force (38 BRTF) of BRO has taken it as a challenge to clear snow from the area of over 60km including the pass to connect the valley with Manali by the only available road. The officials said they cleared snow from Manali-Rohtang-Keylong stretch on Monday evening and one vehicle successfully crossed over to other side of the Rohtang pass. They suspect overnight blizzards may again block the road.
"We work under the threat of avalanche, landslide, blizzards and hypothermia. We follow all the safety measures but we feel like being at the mercy of mighty and invincible mountains. We eat cold meal and drink cool tea as hot stuffs freeze to ice in seconds here. Machine operators are at the maximum risk who do not know exact axis of the road covered with snow. Collapsing of high walls of snow due to tremors generated by machines is normal thing here. We try to keep ourselves warm to avoid from getting frozen," an official said.
Had blizzards not covered the cleared road again and again, BRO would have connected Lahaul and Rohtang with Manali long back. This is for the first time that BRO is clearing snow from Rohtang multiple times after each spell of heavy snowfall. Otherwise, snow clearing operations used to stop till March.
38 BRTF commander Colonel Uma Shankar said avalanches near the pass wasted their precious time. "High velocity winds bring snow with them and cover the road again and again. We are once again clearing snow from the road which we had cleared last week. Hopefully we shall give green signal to civil administration by Tuesday so that they can allow traffic," he said.
BRO has cleared snow from the pass many times since October but fresh spell of snowfall undo their efforts. A large number of vehicles are waiting for a green signal from the organization. However, another spell of snowfall from Thursday onwards may again block the highway as predicted by meteorological centre, Shimla. While rescue posts on either sides of the pass are not allowing pedestrians to go towards Rohtang due to life-threatening conditions, it will be very difficult for vehicles to move on frozen surface and avoid accident.
However, administration will continue to restrict tourist movement to Gulaba due to security reasons. As there is prediction for heavy snowfall from December 11 to 14, the entire Manali-Leh road is expected to be covered under thick blanket of snow.
Manali-Leh highway, in no circumstances, can open for vehicular traffic before May end. So, tourists are advised not to book the tour (the road trip between Manali and Ladakh) in May 2020.
Update on November 21, 2019
Nine tankers dare to supply fuel to Lahaul; one stranded at Rohtang
While no vehicle is daring to ply frozen Manali-Rohtang highway and when all oil companies refused to ferry diesel for Border Road Organization (BRO), Indian Oil Corporation Ltd sent its nine oil tankers to Lahaul, of which one has stranded at Rohtang pass.
Active blizzards and continuing fresh snowfall has covered the highway with thick layer of snow. BRO was in dire need of diesel to stock at its Stingri and Udaipur stations so that its machines keep working in winter season. According to officials, they contacted all the companies to supply them fuel but all refused. Finally, Indian Oil Corp Ltd agreed to send its nine bowsers.
"Eight bowsers successfully crossed Rohtang pass over to Lahaul valley on Wednesday but one has stuck in snow near Rohtang pass," 38 Border Road Task Force commander Col Uma Shankar said. He added that Indian Oil Corporation, despite knowning rough weather conditions at Rohtang, helped the organization in the national interest. I personally congratulated its officials and the courageous drivers," he said.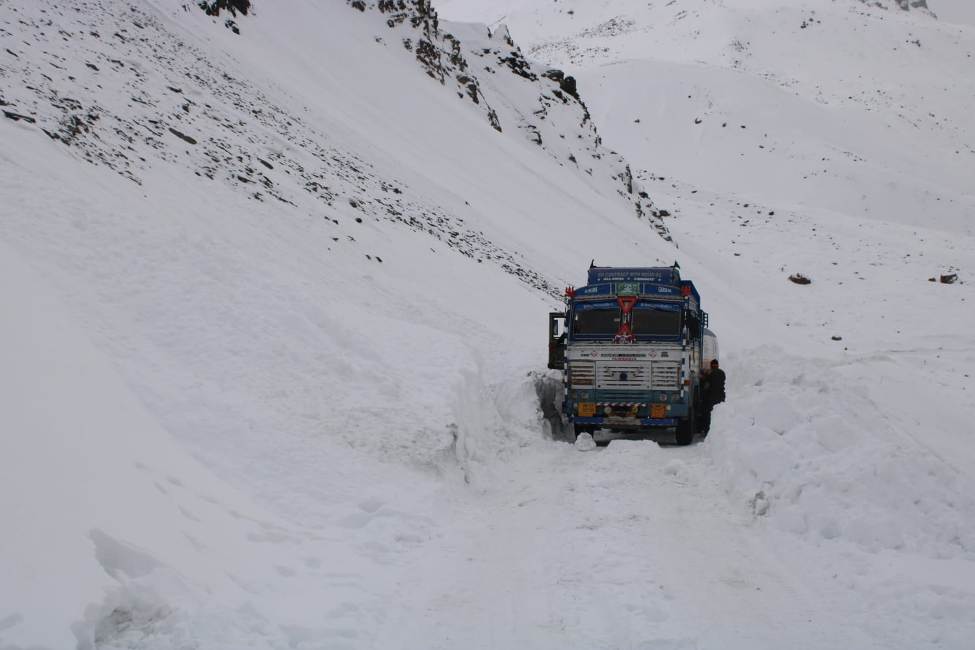 The Manali-Keylong highway has again blocked due to fresh snowfall at Rohtang pass. BRO has cleared snow from the highway multiple times after snowfall in last few days but another spell of snowfall blocks it. A large number of vehicles, mostly trucks ferrying apple from Lahaul to Kullu, had stranded in Lahaul for a long time which were evacuated on Wednesday. Taking precautionary measures, traffic movement towards Rohtang has been stopped. BRO will try to evacuate stranded bowser after weather condition improves.
Although snow from Darcha-Baralacha-Sarchu stretch along Ladakh highway will be cleared next year after onset of summer season, BRO will keep clearing snow from highway in Lahaul valley for the convenience of the local residents. For this, the organization stocks enough fuel in advance. In case of emergency, the fuel is transported with help of chopper.
Update on November 11, 2019
Snow cleared from Manali-Rohtang-Keylong road
The 38 Border Road Task Force commander Col Uma Shankar informed that his jawans and machines have cleared snow from Rohtang pass on Monday late evening and administration, depending on weather conditions, can allow traffic on the road.
"My jawans worked till late nights and reconnected Keylong with Manali. Depending on icing of the road, administration may allow traffic anytime. We recommend vehicles with skid chains on tyres and road is slippery at some places due to its icing under extreme cold conditions," he said.
The Manali-Rohtang-Keylong highway was closed for vehicular traffic after very heavy snowfall on Rohtang pass on Thursday. Rohtang pass is covered with over 100cm of snow. The Border Roads Organization (BRO) had moved its jawans and snow clearing machines on Friday. At some places highway was covered under over 150cm of snow.
As it is apple harvesting season in Lahaul valley, a large number of produce has stuck in the valley. Hundreds of people are also waiting to cross Rohtang pass to reach their destination before the valley cuts off for six months in winters. Providing relief to people, BRO has decided to keep clearing snow from the highway as long as it will be possible for them. However, Keylong-Leh (Ladakh) stretch has blocked with snow for the entire winter season and traffic movement on the link will be possible in next summer season.
Meanwhile, tourist movement from Manali side is restricted to Gulaba for safety reasons. According to sources, if the snow line recedes, tourists can be allowed to go up to Marhi and then Rohtang pass in next few days. Tourist movement on Manali-Leh highway is completely restricted and is possible after June 2020.
Update on November 07, 2019
Heavy snowfall blocks Manali-Keylong-Leh highway
Heavy snowfall in parts of Kullu and Lahaul-Spiti districts left traffic interrupted in many major roads including Manali-Rohtang-Keylong highway, while over 300 tourists stranded near Gulaba below Rohtang pass on Thursday.
Manali-Keylong and Keylong-Leh highways have again closed after heavy snowfall. Rohtang pass has received over 100cm of fresh snow in two days. Over 120cm of snow on Baralacha pass has blocked Keylong-Sarchu-Leh road as well. Heavy snowfall on Kunzum pass has blocked Gramphoo-Kaza (Spiti) road. The high hills of Mandi district including Shikari hills have also received snow.
Solang valley and Kothi near Manali have experienced season's first snowfall. Both places have received nearly 10cm of snow. Entire Lahaul valley is also covered with a thin layer of white blanket. Jalori pass in Kullu district that connects Anni and Nirmand sub-divisions with the headquarters has also witnessed season's first snowfall, blocking the highway.
According to Border Roads Organization (BRO) official, major parts of the Manali-Sarchu-Leh highway along Ladakh axis have received heavy snow but they shall clear snow soon after weather is clear.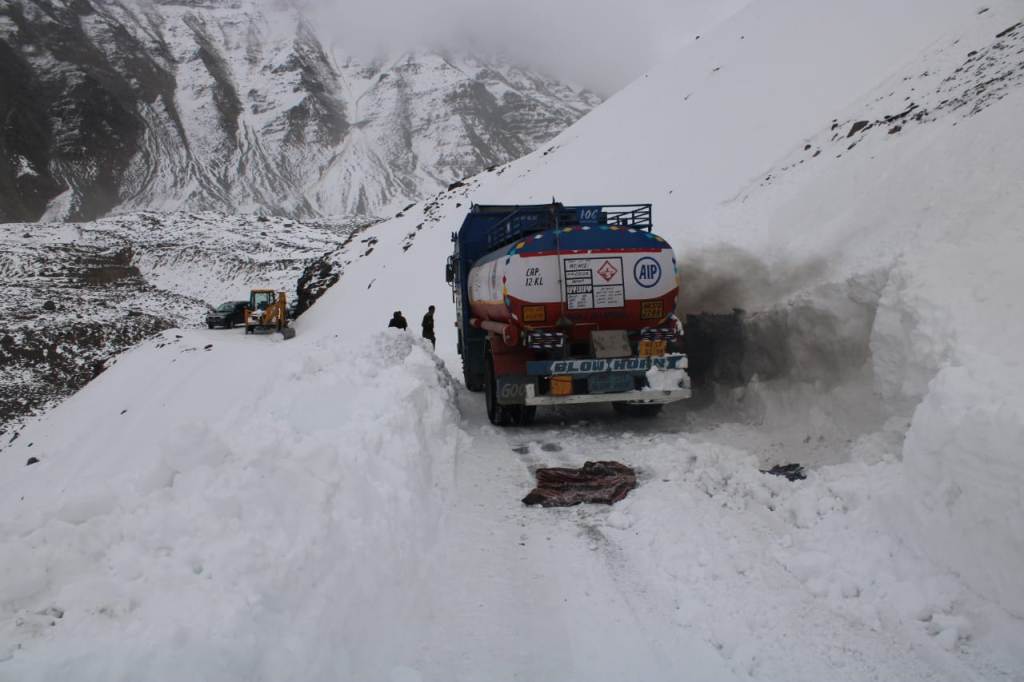 38 Border Road Task Force (38 BRTF) commander Col Uma Shankar said chief engineer of Project Deepak of BRO visited the important locations on Sumdo-Gramphoo and Manali-Sarchu highways and reviewed the preparedness of snow clearance activities on Wednesday. "He motivated jawans to keep working under inhospitable circumstances. The roads are blocked due to heavy snow. We recommend using skid chains in the tyres as road surface has become too slippery. The road will be cleared after snowfall stops," he added.
Hundreds of tourists had reached Gulaba and Kothi to see snowfall on Thursday morning. As it was snowing fast, tourists were asked to descend down to Kothi. Ignoring warning, many tourists stayed below Gulaba. Some tourists walked along the highway towards Gulaba. Later vehicles started slipping on the road and they got stranded. After getting news about tourists getting stranded, local administration, police and rescue volunteers rushed to Gulaba to carry out relief operation. All tourists were brought back to Manali by late evening.
Manali sub-divisional magistrate Raman Gharsangi said tourists were not allowed to go beyond Gulaba on Thursday but some tourists were reported to have stranded below Gulaba. "The road had become very slippery. The tourists were brought to safe place with help of police, taxi union and other volunteers. Situation is under control," he said.
Update on November 03, 2019
Snowfall blocks Manali-Leh highway
November 03, 2019: The Manali-Rohtang-Leh highway has been blocked for vehicular movement after fresh snowfall at Rohtang pass and Baralacha pass on Sunday. The road to Leh has closed completely for the season.
The passes have received over 15cm of snow since morning. Hundreds of tourists had thronged Rohtang to enjoy fresh snowfall. As snow continued accumulating on the road and vehicles started slipping on it, police asked all tourists to move down to Marhi. Taking precautionary measures, traffic movement has been restricted to Gulaba check post, 23km from Manali.
With this, the traffic to Lahaul valley has also been affected. A large number of vehicles going to Lahaul got stuck in jam at Rohtang where tourist vehicles had blocked the highway. They had to wait for all vehicles to clear the area. The highway is expected to open on Monday.
Many villages in Lahaul including Darcha and Koksar also received some snow on Sunday. The high hills including Baralacha have received snow. Ignoring the advisory from Lahaul-Spiti administration, a few people are still driving on Manali-Leh highway which is frozen at many places. Sources said that some vehicles that had left for Leh from Manali have stuck in Lahaul.
According to meteorological department, more snowfall is in store for high hills of Himachal Pradesh from Wednesday onwards. Rohtang pass and Baralacha are expected to receive more snow next week.
Manali-Leh highway closes for six months
October 24, 2019: The Manali-Leh highway, which passes through some of the highest mountain passes of the world, has closed officially and will open for vehicular movement in May or June next year. However, the traffic on Manali-Keylong road will continue until heavy snowfall blocks the highway.
While Lahaul-Spiti district administration and the police have advised people not to risk life by driving on slippery Keylong-Leh road, the Border Roads Organization (BRO) said it will keep the Manali-Leh highway open as long as it is possible.
The snow and ice have started to cover the road surface between Darcha and Leh, posing threat to the vehicles. The police posts from Sarchu, the mid-point of the highway, have already been removed. The Darcha post has also been removed on October 15. The BRO will start removing its machines from the higher areas after the snowfall. BRO official said the road is still open and Military convoy from Leh are coming towards Manali.
While BRO said road is still open, there would be nobody to help travellers in case of emergency. The Darcha-Leh road is declared officially closed after October 15 while Manali -Darcha stretch is declared closed on November 15 every year.
Lahaul-Spiti police said Sarchu and Chandertal police posts were removed on September 15 and now Darcha post has also been shut. "The posts are shut as per the manuals every year. The Darcha-Sarchu road has become slippery under extreme cold conditions. We have advised people not to put life in danger. Though traffic on Manali-Lahaul stretch is still operational, people have been asked not to drive in the night time and during bad weather conditions," police said.
Officially closure of the highway means driving on the road is unsafe and no government agency will be responsible for any mishap happening after ignoring the advisory. The BRO will not clear snow from Darcha-Sarchu stretch now onwards but it will continue with other road building and maintenance works as long weather allows. Once the entire stretch of Manali-Leh highway is covered with thick layer of snow, the snow clearance operation on the road will start from March 1, 2020. Generally Manali-Leh highway opens in late May or early June every year after snow from the stretch is removed.
The Manali-Spiti road too has become very dangerous at Kunzum pass. The Manali-Lahaul road which is a lifeline for the people of Lahaul valley will remain open until heavy snowfall blocks it again.
Rohtang pass, Baralalacha, Sarchu, Taglangla and other high altitude areas along the highway may experience very heavy snowfall anytime and can leave travellers stranded without help. The passes can receive over 30cm of snow within an hour due to strong winds. The area is reeling under sub-zero temperature and all moisture on road surface has turned into slippery ice.
---Stay tuned to get fresh updates---
Disclaimer: The date of opening of Manali-Leh and Srinagar-Leh highway is not determined by anybody as it totally depends on weather conditions. Opening of these highways totally depend on intensity of snowfall in winter months, weather during clearing of snow, more snowfall in April and May months, temperature and many other aspects. Discover Leh Ladakh does not guarantee the accuracy of date of opening of the highway. This is just an estimation made as per inputs from BRO and sight visit by our own team members.