Srinagar - Leh Road (2020):
OPEN
Manali - Leh Road (2020):

CLOSE



Excerpt:
11 Nov, 2019: BRO cleared snow from Manali-Rohtang-Keylong stretch but Keylong-Leh stretch will remain closed during winter months.
07 Nov, 2019: Very heavy snowfall at Rohtang la and Baralacha la has again blocked the complete highway.
03 Nov, 2019: Fresh snowfall at Rohtang pass and Baralacha pass has blocked the Manali-Keylong-Leh highway. Traffic movement is allowed only till Gulaba. Manali-Keylong stretch will open shortly but Keylong-Leh stretch will open in the next season. More snowfall is in store in the next week.
15 oct, 2019: The Manali-Leh highway has closed officially for the year 2019-20. Police have removed posts from Sarchu, Darcha and Koksar. The highway has become slippery due to deposit of ice on road. Snow on Baralacha has made road slippery. The road will now open in May/June 2020.
Update on November 11, 2019
Snow cleared from Manali-Rohtang-Keylong road
The 38 Border Road Task Force commander Col Uma Shankar informed that his jawans and machines have cleared snow from Rohtang pass on Monday late evening and administration, depending on weather conditions, can allow traffic on the road.
"My jawans worked till late nights and reconnected Keylong with Manali. Depending on icing of the road, administration may allow traffic anytime. We recommend vehicles with skid chains on tyres and road is slippery at some places due to its icing under extreme cold conditions," he said.
The Manali-Rohtang-Keylong highway was closed for vehicular traffic after very heavy snowfall on Rohtang pass on Thursday. Rohtang pass is covered with over 100cm of snow. The Border Roads Organization (BRO) had moved its jawans and snow clearing machines on Friday. At some places highway was covered under over 150cm of snow.
As it is apple harvesting season in Lahaul valley, a large number of produce has stuck in the valley. Hundreds of people are also waiting to cross Rohtang pass to reach their destination before the valley cuts off for six months in winters. Providing relief to people, BRO has decided to keep clearing snow from the highway as long as it will be possible for them. However, Keylong-Leh (Ladakh) stretch has blocked with snow for the entire winter season and traffic movement on the link will be possible in next summer season.
Meanwhile, tourist movement from Manali side is restricted to Gulaba for safety reasons. According to sources, if the snow line recedes, tourists can be allowed to go up to Marhi and then Rohtang pass in next few days. Tourist movement on Manali-Leh highway is completely restricted and is possible after June 2020.
Update on November 07, 2019
Heavy snowfall blocks Manali-Keylong-Leh highway
Heavy snowfall in parts of Kullu and Lahaul-Spiti districts left traffic interrupted in many major roads including Manali-Rohtang-Keylong highway, while over 300 tourists stranded near Gulaba below Rohtang pass on Thursday.
Manali-Keylong and Keylong-Leh highways have again closed after heavy snowfall. Rohtang pass has received over 100cm of fresh snow in two days. Over 120cm of snow on Baralacha pass has blocked Keylong-Sarchu-Leh road as well. Heavy snowfall on Kunzum pass has blocked Gramphoo-Kaza (Spiti) road. The high hills of Mandi district including Shikari hills have also received snow.
Solang valley and Kothi near Manali have experienced season's first snowfall. Both places have received nearly 10cm of snow. Entire Lahaul valley is also covered with a thin layer of white blanket. Jalori pass in Kullu district that connects Anni and Nirmand sub-divisions with the headquarters has also witnessed season's first snowfall, blocking the highway.
According to Border Roads Organization (BRO) official, major parts of the Manali-Sarchu-Leh highway along Ladakh axis have received heavy snow but they shall clear snow soon after weather is clear.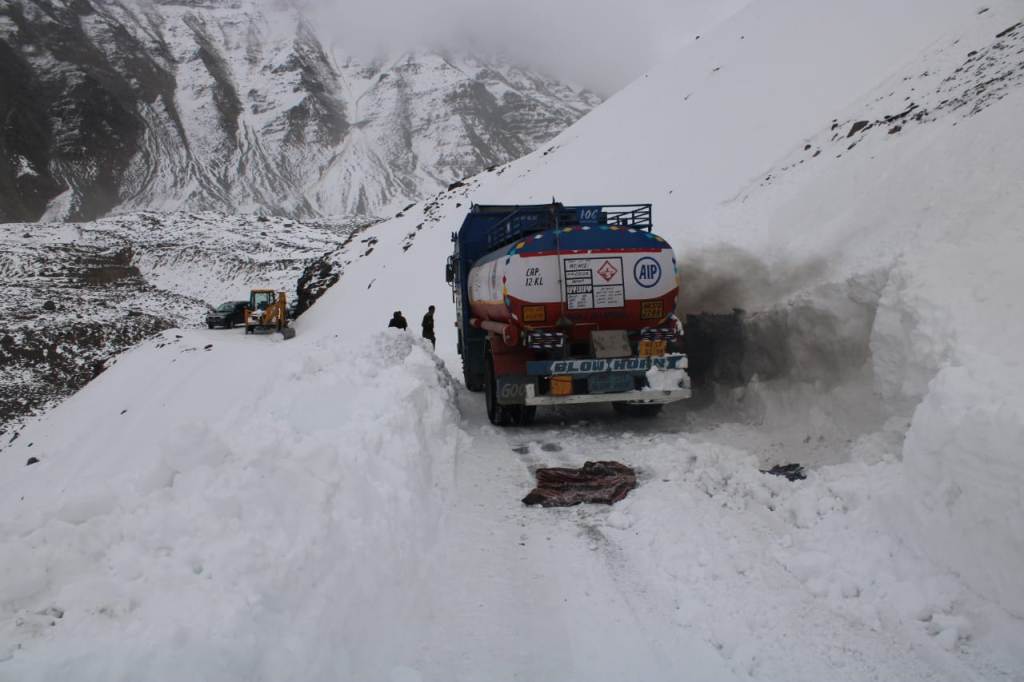 38 Border Road Task Force (38 BRTF) commander Col Uma Shankar said chief engineer of Project Deepak of BRO visited the important locations on Sumdo-Gramphoo and Manali-Sarchu highways and reviewed the preparedness of snow clearance activities on Wednesday. "He motivated jawans to keep working under inhospitable circumstances. The roads are blocked due to heavy snow. We recommend using skid chains in the tyres as road surface has become too slippery. The road will be cleared after snowfall stops," he added.
Hundreds of tourists had reached Gulaba and Kothi to see snowfall on Thursday morning. As it was snowing fast, tourists were asked to descend down to Kothi. Ignoring warning, many tourists stayed below Gulaba. Some tourists walked along the highway towards Gulaba. Later vehicles started slipping on the road and they got stranded. After getting news about tourists getting stranded, local administration, police and rescue volunteers rushed to Gulaba to carry out relief operation. All tourists were brought back to Manali by late evening.
Manali sub-divisional magistrate Raman Gharsangi said tourists were not allowed to go beyond Gulaba on Thursday but some tourists were reported to have stranded below Gulaba. "The road had become very slippery. The tourists were brought to safe place with help of police, taxi union and other volunteers. Situation is under control," he said.
Update on November 03, 2019
Snowfall blocks Manali-Leh highway
November 03, 2019: The Manali-Rohtang-Leh highway has been blocked for vehicular movement after fresh snowfall at Rohtang pass and Baralacha pass on Sunday. The road to Leh has closed completely for the season.
The passes have received over 15cm of snow since morning. Hundreds of tourists had thronged Rohtang to enjoy fresh snowfall. As snow continued accumulating on the road and vehicles started slipping on it, police asked all tourists to move down to Marhi. Taking precautionary measures, traffic movement has been restricted to Gulaba check post, 23km from Manali.
With this, the traffic to Lahaul valley has also been affected. A large number of vehicles going to Lahaul got stuck in jam at Rohtang where tourist vehicles had blocked the highway. They had to wait for all vehicles to clear the area. The highway is expected to open on Monday.
Many villages in Lahaul including Darcha and Koksar also received some snow on Sunday. The high hills including Baralacha have received snow. Ignoring the advisory from Lahaul-Spiti administration, a few people are still driving on Manali-Leh highway which is frozen at many places. Sources said that some vehicles that had left for Leh from Manali have stuck in Lahaul.
According to meteorological department, more snowfall is in store for high hills of Himachal Pradesh from Wednesday onwards. Rohtang pass and Baralacha are expected to receive more snow next week.
Manali-Leh highway closes for six months
October 24, 2019: The Manali-Leh highway, which passes through some of the highest mountain passes of the world, has closed officially and will open for vehicular movement in May or June next year. However, the traffic on Manali-Keylong road will continue until heavy snowfall blocks the highway.
While Lahaul-Spiti district administration and the police have advised people not to risk life by driving on slippery Keylong-Leh road, the Border Roads Organization (BRO) said it will keep the Manali-Leh highway open as long as it is possible.
The snow and ice have started to cover the road surface between Darcha and Leh, posing threat to the vehicles. The police posts from Sarchu, the mid-point of the highway, have already been removed. The Darcha post has also been removed on October 15. The BRO will start removing its machines from the higher areas after the snowfall. BRO official said the road is still open and Military convoy from Leh are coming towards Manali.
While BRO said road is still open, there would be nobody to help travellers in case of emergency. The Darcha-Leh road is declared officially closed after October 15 while Manali -Darcha stretch is declared closed on November 15 every year.
Lahaul-Spiti police said Sarchu and Chandertal police posts were removed on September 15 and now Darcha post has also been shut. "The posts are shut as per the manuals every year. The Darcha-Sarchu road has become slippery under extreme cold conditions. We have advised people not to put life in danger. Though traffic on Manali-Lahaul stretch is still operational, people have been asked not to drive in the night time and during bad weather conditions," police said.
Officially closure of the highway means driving on the road is unsafe and no government agency will be responsible for any mishap happening after ignoring the advisory. The BRO will not clear snow from Darcha-Sarchu stretch now onwards but it will continue with other road building and maintenance works as long weather allows. Once the entire stretch of Manali-Leh highway is covered with thick layer of snow, the snow clearance operation on the road will start from March 1, 2020. Generally Manali-Leh highway opens in late May or early June every year after snow from the stretch is removed.
The Manali-Spiti road too has become very dangerous at Kunzum pass. The Manali-Lahaul road which is a lifeline for the people of Lahaul valley will remain open until heavy snowfall blocks it again.
Rohtang pass, Baralalacha, Sarchu, Taglangla and other high altitude areas along the highway may experience very heavy snowfall anytime and can leave travellers stranded without help. The passes can receive over 30cm of snow within an hour due to strong winds. The area is reeling under sub-zero temperature and all moisture on road surface has turned into slippery ice.
---Stay tuned to get fresh updates---
Disclaimer: The date of opening of Manali-Leh and Srinagar-Leh highway is not determined by anybody as it totally depends on weather conditions. Opening of these highways totally depend on intensity of snowfall in winter months, weather during clearing of snow, more snowfall in April and May months, temperature and many other aspects. Discover Leh Ladakh does not guarantee the accuracy of date of opening of the highway. This is just an estimation made as per inputs from BRO and sight visit by our own team members.