LEH: "Biking Queens", a group of 50 women bikers from Gujarat, who aims to ride over 10,000 km and cover 15 states, will reach 18,380 ft high Khardungla pass on August 15 and hoist National Flag here to mark Independence Day.
The group, named Biking Queens, has reached Manali on Wednesday. On Thursday, they shall start their onward journey to Ladakh taking a midway halt at Jispa and Sarchu. The group will reach Leh on Saturday.
The 'All Women All India' ride which was flagged off in the presence of Anandiben Patel, Ex Chief Minister of Gujarat, on July 19, had been to Gujarat and Maharashtra, Karnataka, Tamil Nadu, Andhra Pradesh, Telangana, Madhya Pradesh, Uttar Pradesh, Haryana, Uttarakhand states covering 5, 547 KM journey. The biking queens have taken an inspiration from Prime Minister Narendra Modi's campaign "Beti Bachao, Beti Padhao" and "Swachch Bharat". As part of an ambitious 10,438-km rides, covering 15 states to popularise the Central government campaign "Sashakta Nari, Sashakta Bharat", "Beti Bachao, Beti Padhao" and "Swachchh Bharat". In next 25 days these queens would visit Jammu & Kashmir, Punjab, Delhi, Rajasthan and conclude their voyage back in Gujarat.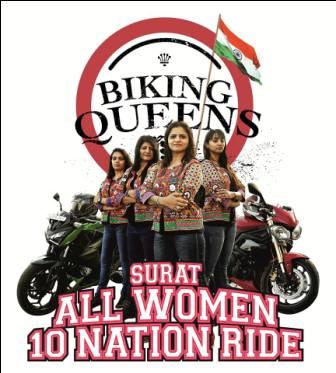 To spread the message of women empowerment and save the girl child, around 50 women riders on a mission to visit schools and interact with bikers from 15 states and would distribute educational kit to student and sanitary kits teenage girls. So far on their voyage these queens have received over whelming response from the community groups, students, teaching staff of schools. These women bikers were astonished by the honour they received by 150 local male bikers from Dulapally village in Hyderabad. Also Riders of Bangalore, Bangalore's Riders club and many other bikers met these queens and appreciated their efforts for a social cause.

Biking Queens will visit 6,000 far-flung hamlets across the country before culminating their journey on August 15 by hoisting the tricolor on India's highest motorable pass Khardung La, in Ladakh, Jammu and Kashmir.

In every state they will meet the local people and spread the message of women empowerment. To help the underprivileged children they will also distribute more than 9,000 educatory kits in all these states. Sanitation is also a very important part of our lives and to encourage hygiene they will also distribute sanitary kits to girls in all over these states.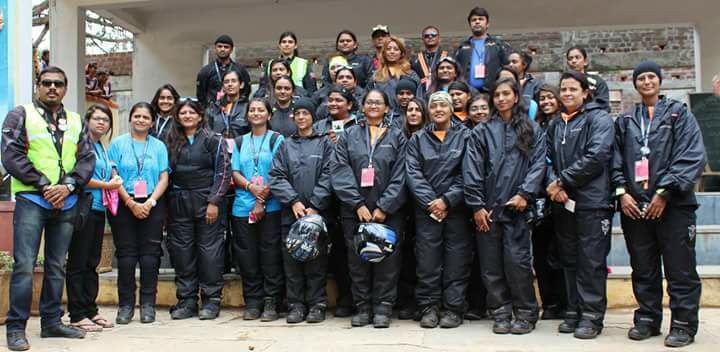 Dr Sarika Mehta, a psychologist, had founded the group in 2015. Sarika's perception towards a women biking group is wide and she feels that biking is an activity that will liberate women and also help to change the public perception of female riders in the country. The team underwent rigorous three-month training before the expedition kick-started. All the members are in the 19-42 age-group that includes working women, mothers and students.
"We are riding for passion and social cause simultaneously. Women in our country have a lot of inhibitions about their talent. And there is also widespread inferiority complex among them. Through this journey we will be informing women about their rights and make them aware of the different occupations they can take up to earn their living," said Dr Sarika Mehta, founder of the all women rider group 'Biking Queens.' One their way back in August they will also meet Prime Minister Modi in New Delhi.