Traffic between Lahaul and Leh is closed officially every year on October 15 under subzero temperature when everything starts freezing in the area. However, BRO keeps clearing snow from Rohtang pass to connect Lahaul will Manali till mid November. After having cleared snow from Rohtang pass three times since September 22, BRO is considering not to spend lakhs of rupees on clearing snow anymore. Lahaul-Spiti police have already removed seasonal traffic check post from Darcha, the last village of district towards Ladakh. Police check post from Sarchu was also removed after heavy snowfall in September. Now there is nobody to monitor safe movement of the vehicles. People of Leh and tourists can now opt for Srinagar-Leh highway which closes weeks after this highway. However, Srinagar-Leh highway can also be blocked by snow anytime.
Lahaul-Spiti superintendent of police Rajesh Dharmani confirmed that police check post at Sarchu and Darcha will remain shut during winter season. "Rescue post have been set up on either sides of Rohtang pass on November 12. The Leh highway has been closed."
Very heavy snowfall on September 22 and 23 had blocked all the passes including Rohtang and Baralacha pass and hundreds of tourists and vehicles had stranded for days. However, BRO had cleared snow from Manali-Leh highway on October 1 to facilitate the stranded people and vehicles. Large number of vehicles are still stuck in Ladakh which will return back via Zojila pass and Srinagar. As seasonal police posts, shops, dhabas, camping sites and even shepherds have moved back, there is nobody to help people in case of emergency along Manali-Leh highway which is blocked with snow at many places.
BRO commander with 38 Border Road Task Force Col AK Awasthi who is responsible for maintenance of Manali-Leh highway till Sarchu told local newspapers that the highway generally closes in mid October but they kept it open till now. "We kept the road link, especially Manali-Keylong, open for the convenience of local people. All the vehicles have crossed the Rohtang and essential items have been supplied. The snow has again blocked the road. I think there is no need to clear snow from Rohtang pass now onward."
Keep reading our next updates to stay updated with Manali Leh Highway Status in 2019
Heavy snowfall along Manali-Leh highway
January 6, 2019: The peaks of Himachal and Ladakh, most parts of Lahaul-Spiti and Kinnaur districts, Dalhousie and Manali have worn fresh mantle of snow while many lower parts of the state received moderate rain on Sunday.
2 to 20ft of thick layer of snow has covered most part of Manali-Leh highway. The highway is closed since October and will open in May or June.
Keylong, district headquarters of Lahaul-Spiti, received 30cm of snow. Gondla and Koksar on Manali-Leh road recorded 11cm and 20cm snowfall respectively. Dalhousie in Chamba district received. Manali received 10cm and both Solang and Kothi received over 70cm of snow. Rohtang pass, which is inaccessible in winter months, has received more than 150cm of snow in last 96 hours.
The snow is wet and accumulation rate is very low due to absence of extreme cold. Mid hills received rain coupled with snowflakes but higher areas and passes like Rohtang, Baralacha and Taglang-la received dry and good snowfall.
While it was snowing on the peaks since night, people in Manali were surprised to see only rain till 10am. The average minimum temperature of state has increased by 3 to 4 degrees C in last 24 hours. The minimum temperature in Manali was recorded at 1 degree C. The temperature in Leh has plummeted to minus 15 degrees C.
Despite weather alert and warnings, there was no rain or snowfall in many hill stations including Shimla where minimum temperature plunged only to 3.7 degrees C. Clouds were hovering over the hill queen and residents kept waiting for snowfall but only to be disappointed.
At minus 7 degrees C, Keylong was the coldest place in Himachal. Entire Lahaul valley is receiving heavy snowfall and vehicular traffic in district has come to the standstill. Many parts of Lahaul valley have no internet connectivity.
Snowfall has blocked many roads in Kullu, Lahaul-Spiti, Kinnaur and Chamba districts. A large numbers of tourists were elated by snowfall in Manali.
Presently, Manali-Leh highway is blocked beyond Palchan, 10km from Manali.
Keep reading our next update to stay updated with Manali Leh Highway Opening Date in 2019
Snowfall halts snow clearance on Manali-Leh highway
March 03, 2019: The continuing snowfall, heaviest in recent years, has not only affected life in upper Himachal but has badly impacted the snow clearance operations along Manali-Leh highway.
Border Roads Organization (BRO) used to start snow clearance operation on the highway from Manali side officially from March 1 every year. The weather is not turning favourable and is not letting to start the operation. Sometime, in case of bad weather, BRO postpones the date to second week of March and starts snow clearance from Gulaba, 24km from here. This time the Manali-Gulaba stretch is also blocked and is deep under five to 10ft of snow.
Removing snow from 222km stretch between Manali and Sarchu which has two major passes -- Rohtang and Baralacha -- is the main challenge for BRO. The stretch has suffered huge damages this year. The highway has been hit by dozens of avalanches and excessive snow and rain has triggered landslides at many places. While over 30ft of snow has deposited on Rohtang pass, snow accumulation on Baralacha pass is expected to have gone beyond 40ft.
BRO used to clear snow in 20km stretch from Kothi to upper Gulaba in Kullu and 80km stretch from Koksar to Darcha in advance by first week of March. This year, the jawans have no benefit and will have to put extra efforts to clear snow from entire stretch between Manali and Sarchu.
BRO tried to keep Sissu-Keylong-Darcha stretch clear of snow in winter month but frequent spells of snowfall blocked the highway again and again. Currently, Lahaul valley has 5 to 10ft of snow. Fresh snowfall along the entire length of the highway, which is still continuing, is adding to the thickness of snow cover.
A BRO official said they are clearing the snow and will start the operation officially very soon. He said BRO jawans and machines will start the task in multi-phases and will accomplish the operation within time.
Meanwhile, Lahaul-Spiti deputy commissioner Ashwani Kumar Chawdhary said he had an emergency meeting with BRO officials on Saturday and directed them to speed up the snow clearing tasks as soon as weather turns favourable. "70 Road Construction Company of BRO is clearing snow between Keylong and Jispa. The officials said they will start the work on war footings once sky turns blue. The region has witnessed terrible winter season this year," he said.
It takes nearly three months of hard work for BRO to connect Manali with Ladakh. While traffic on Manali-Rohtang-Keylong stretch resumes in April end or early May, Manali-Leh road opens to traffic in end of May or early June. Chasing this target will be very challenging for BRO this year.
Stay updated with us to know Manali Leh Highway Status in 2019
BRO starts clearing snow from Manali-Leh highway
March 17, 2019: While continuing snowfall is adding to the thickness on strategically important Manali-Leh highway, Border Roads Organization (BRO) has started its snow clearance work on the highway in multiple stages to meet the target of May end.
Heaviest snowfall in many years has already delayed the road opening task by over two weeks. BRO officials said they will set a deadline to complete the snow clearing works on March 23 as weather is predicted to be favourable after this. A team of 38 Border Road Task Force (38 BRTF) is advancing towards Rohtang pass from Manali and will reach Gulaba on Monday or Tuesday. Another team is advancing from Stingri towards Sissu in Lahaul valley.
38 BRTF officiating commander Lt Col Jaipal Singh said continuous snowfall is forcing them to clear a stretch of the road again and again. "We have made multiple attack points to accomplish the task. Currently weather is inclement. We shall set a deadline on March 22 or 23 after assessing the conditions and will work hard to chase the target," he said.
Photo: A snow cutter advancing towards Rohtang pass from Manali on Sunday.
Prolonged winter season is posing a challenge to BRO. It will be very difficult for the jawans to resume traffic on the highway by end of May. The snow cutters are struggling to cut 7 to 8ft of snow in lower portion of Gulaba which is at an altitude of about 8,000ft. It will take a long time for machines to reach 13,050ft high Rohtang pass and 16,050ft high Baralacha pass.
"Safety of men and machines is our prime concern. The region has experienced very heavy snow in many years. We may see over 30ft of snow beyond Marhi. The highway has been hit by many avalanches. Still, morale of our men is high and we shall open the road on time," Singh added.
Generally Manali-Leh road opens for vehicular traffic by end of May or first week of June. BRO used to start snow clearance operation officially from Gulaba in first week of March. This year, BRO is expected to start snow clearance operation officially after organizing a puja by end of this month.
Snow clearance on Srinagar-Leh highway on war footing
March 17, 2019: Meanwhile, BRO jawans and machines under Project Beacon and Project Vijayak are clearing snow from Sonmarg to Zojila pass and Drass to Zojila pass respectively along Srinagar-Leh highway on a war footing. BRO jawans are removing nearly 10ft thick snow from Sonamarg. According to BRO, clearing snow from 30km stretch between Sonamarg and Zojila pass would be most difficult task as the stretch is covered under 20 to 30ft of snow.
Leh-Srinagar highway is expected to open little late this year as the region has received more snow than last year.
No deadline; opening of Manali-Leh highway completely weather dependent: BRO
March 25, 2019: Facing the wrath of extreme weather conditions, the Border Roads Organization (BRO) finally started its snow clearance operations officially on strategically important Manali-Leh highway in four stages after organizing a puja at Gulaba, 23km from here, for the safety of its jawans and machines.
Officials said they are unable to set a deadline to resume vehicular traffic on Manali-Leh highway as it will totally depend on weather conditions but their primary concern is to clear snow from Rohtang pass so that Lahaul valley connects with Manali before election that is scheduled for May 19.
Generally BRO used to start this operation officially in clear weather. But the sky is not turning blue and BRO on Monday started the operation amid snowfall.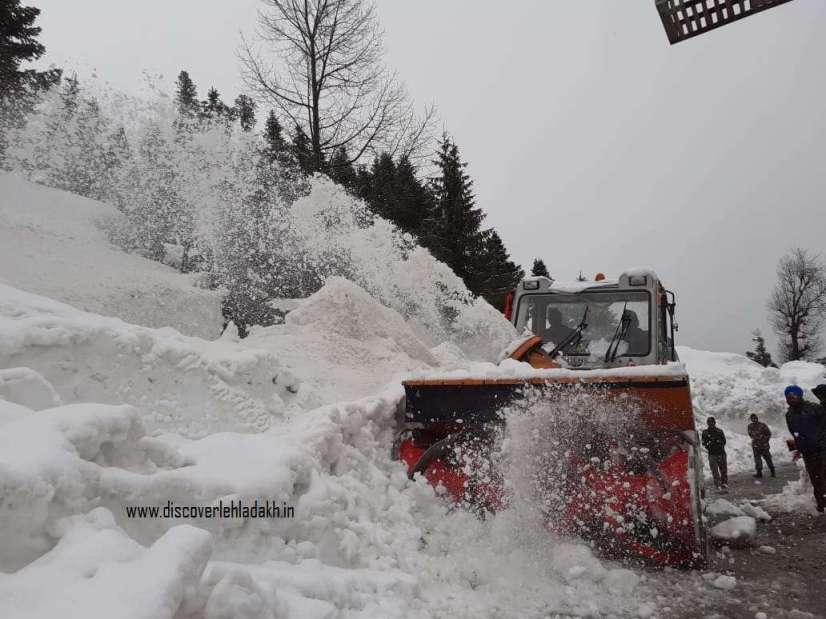 Photo: A snow cutter blows snow off the Manali-Leh highway at Gulaba on Monday.
Four units of 38 Border Road Task Force (38 BRTF), each having 30 jawans, snow cutter, JCBs and dozer, are simultaneously clearing snow from the Manali-Leh highway. Two more units are clearing snow from Tandi-Sansari Marg on Kishtwar axis.
Heavy snowfall delayed road opening ceremony by nearly three weeks this year. The machines are cutting up to 8ft of snow at Gulaba while snow depth at Tandi in Lahaul is nearly 30ft.
38 BRTF commander Col Uma Shankar said his task force is equipped with modern machines and jawans are full of enthusiasm.
"We have made multiple attack points to accomplish job as soon as possible. Our main concern is safety of our men and machines. The region has received extremely heavy snow this year. Our jawans are cutting 30ft wall of snow at Tandi in Lahaul. Snow thickness near Rohtang is expected to be 50ft or more. The highway has been hit by dozens of avalanches. We organized this puja for the safety of the team," he said.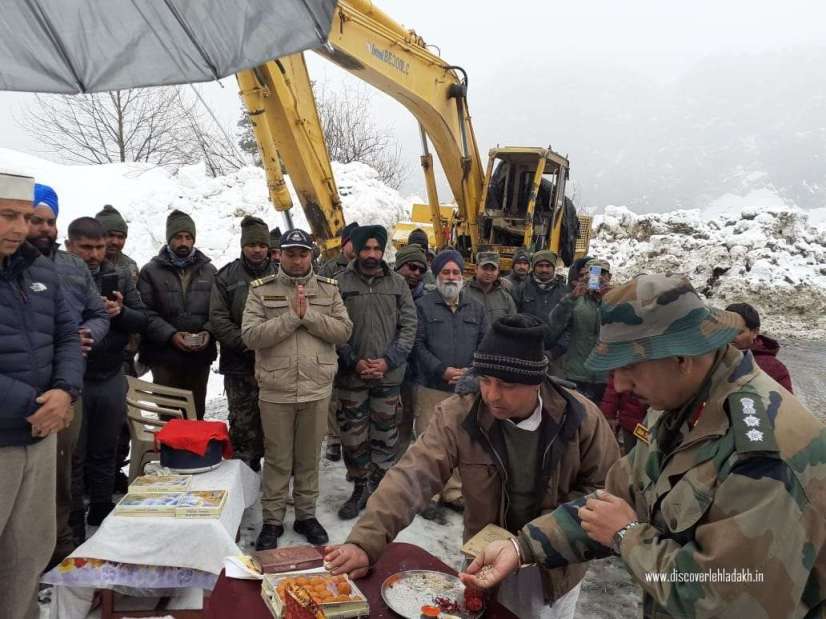 Photo: BRO jawans and officers organize a puja for their safety before starting snow clearing operations on Manali-Leh highway
A team is moving from Gulaba to Rohtang pass, another team from Sissu in Lahaul is also moving towards Rohtang from opposite side. Third team is moving from Stingri towards Sissu and fourth team is moving from Stingri towards Baralacha pass.
The highway has completely disappeared under 5 to 50ft of snow and jawans are searching for the road by removing snow inch by inch with help of Rolba and Supra snow cutters. Dozers, JCBs and Pokland machines are assisting the snow cutters.
"We want to connect inhabited Lahaul valley with Manali first. We trust our men and machines. We shall achieve the target of clearing snow till Sarchu like every year. Though we can not set a deadline under inclement weather conditions which undo the snow clearing job again and again but we shall try to open road for traffic in May," the commander added.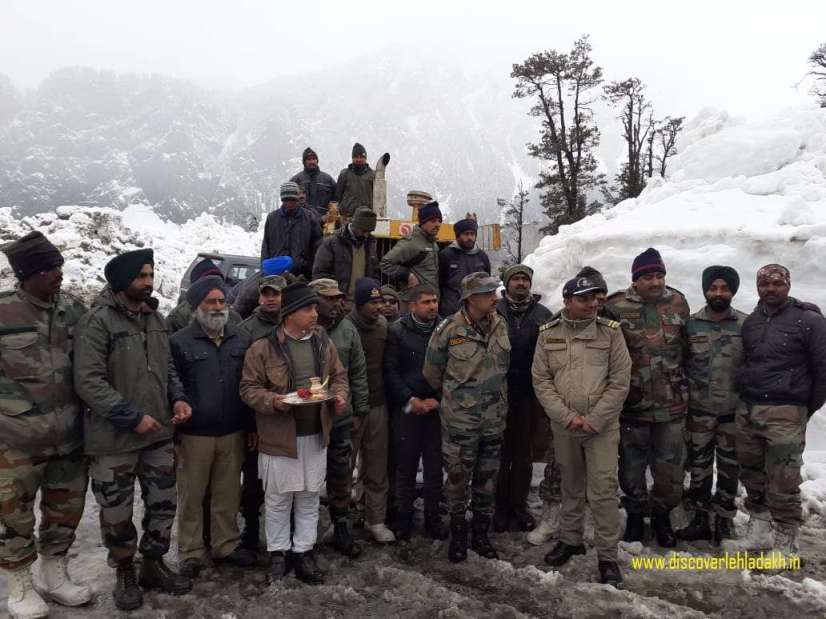 Photo: BRO jawans and officers officially start the snow clearance operation.
Project Deepak of BRO is responsible for maintenance of Manali-Leh highway till Sarchu. This is the toughest stretch of the road to maintain due to extreme weather conditions. BRO's project Himank looks after the road from Sarchu to Leh. Snow clearance from Leh side is also underway and the team is expected to reach Sarchu in April.
Frostbite, blizzards and avalanches are the main risks. Jawans and machines are working under extreme cold conditions. The snow and ice sometime collapses with the vibration caused by machines.
An avalanche on Monday too had blocked the highway near Gulaba. In the past, many jawans have lost their lives during snow clearance operation on Manali-Leh highway.
Last year BRO had started clearing snow officially after organizing puja at Beas nullah, 32km from here, on March 12. This year operation started officially on May 25 and it will take two to three more weeks for BRO jawans to reach Beas nullah.
If going to Leh Ladakh from Manali, cross Gulaba barrier between 5:30AM and 7:30AM
April 10, 2019: If you are planning to visit Leh-Ladakh by road from Manali, you need to leave Manali for Rohtang pass early morning as all tourist vehicles going beyond Rohtang pass (Ladakh/Lahaul/Spiti/Pangi) will be allowed to cross Gulaba barrier (22km from Manali) only between 5:30 AM to 7:30 AM every day.
Kullu administration has fixed timing for all kind of vehicles to ensure smooth flow of traffic, without hours-long jams on Rohtang highway. The timing system will be enforced strictly but will totally dependent on weather conditions. In case of emergency, the officials can slightly change the time.
Issuing a public notice, district magistrate Yunus has fixed time for tourist, goods carriers and private cars bound for all destinations for both directions i.e. from Manali to Rohtang and from Rohtang to Manali.
However, administration has asked public to give suggestions or file objection on this before April 18. This arrangement would be temporarily and can be lifted during lean tourist season (thin traffic). The timing system would not be applicable for emergency vehicles (fire/ambulances/police) and government vehicles.
Here is the traffic arrangement with time:
For vehicles going towards Rohtang
2am to 4am: Heavy goods vehicles/oil tankers
5am to 5:30am: Pick-ups, LGV, private vehicles, BRO vehicles, govt vehicles, local taxis going towards Lahaul and Pangi
5:30am to 7:30am: Tourists vehicles going beyond Rohtang pass
7:45am to 10am: Tourist vehicles going to Rohtang
10am to 11am: Residents/BRO vehicles/Govt vehicles going beyond Rohtang
For vehicles coming to Manali from Leh-Ladakh/Lahaul-Spiti/Pangi
All vehicles will be released from Koksar check post at 9:30am and from Rohtang post at 11am
All vehicles (second batch) will be released from Koksar check post at 11am and from Rohtang post at 12:30pm
Tourist vehicles from Koksar check post would be released at 2pm and fro Rohtang check post at 3:30pm
Heavy goods vehicles/oil tankers from Koksar check post will be released at 3pm-5pm and from Rohtang 4:30pm-7:50pm
Traffic arrangement at Rohtang pass check post (for vehicles coming towards Manali)
10:30am to 11am: For vehicles coming from Lahaul
11:30am to 12:30pm: For tourist vehicles
12:30pm to 1pm: For vehicles coming from Lahaul
1pm to 2pm: For tourist vehicles
3pm to 5pm: Tourist and other vehicles coming from Lahaul
Here is the copy of the order issued by district magistrate Yunus: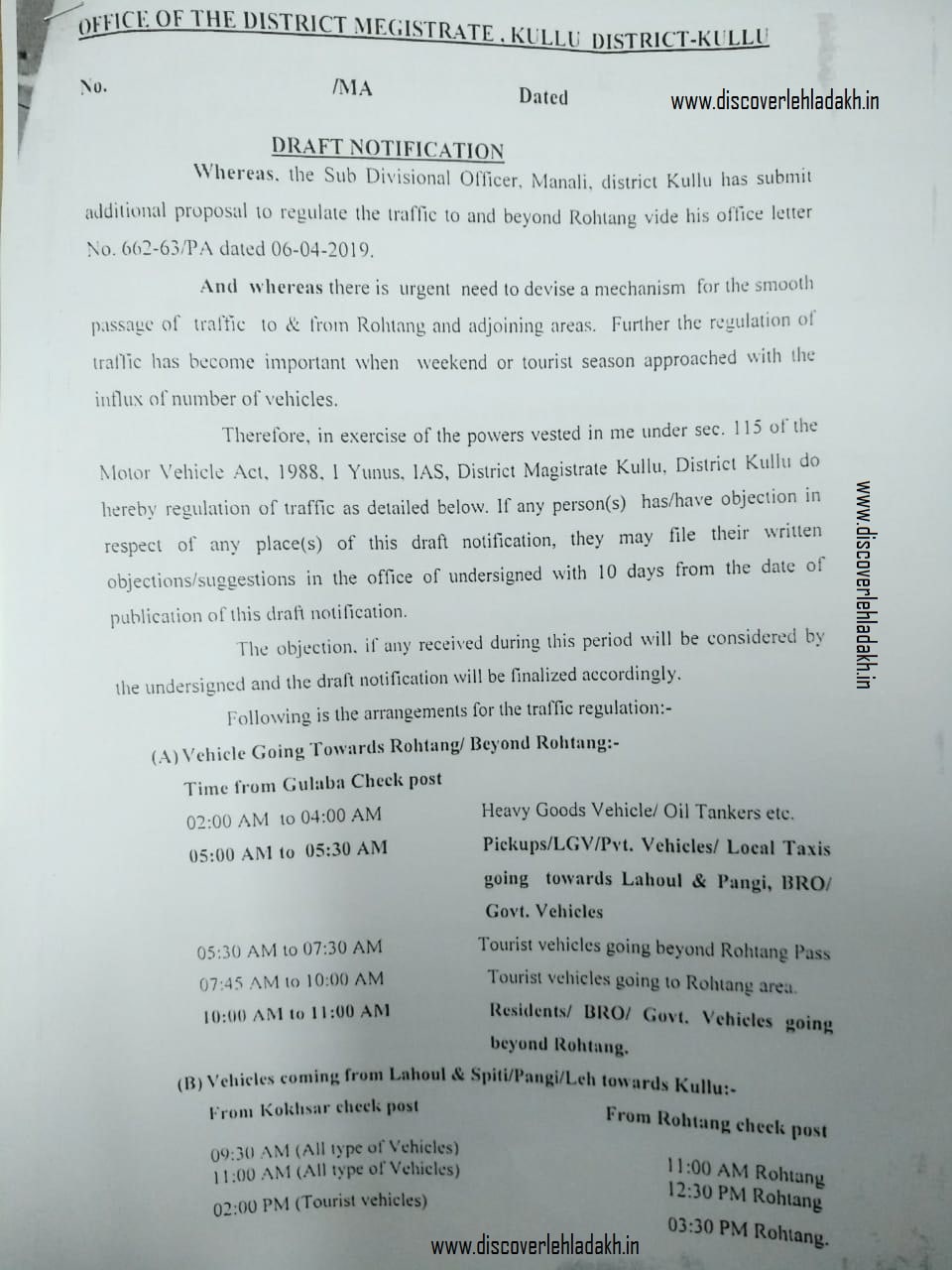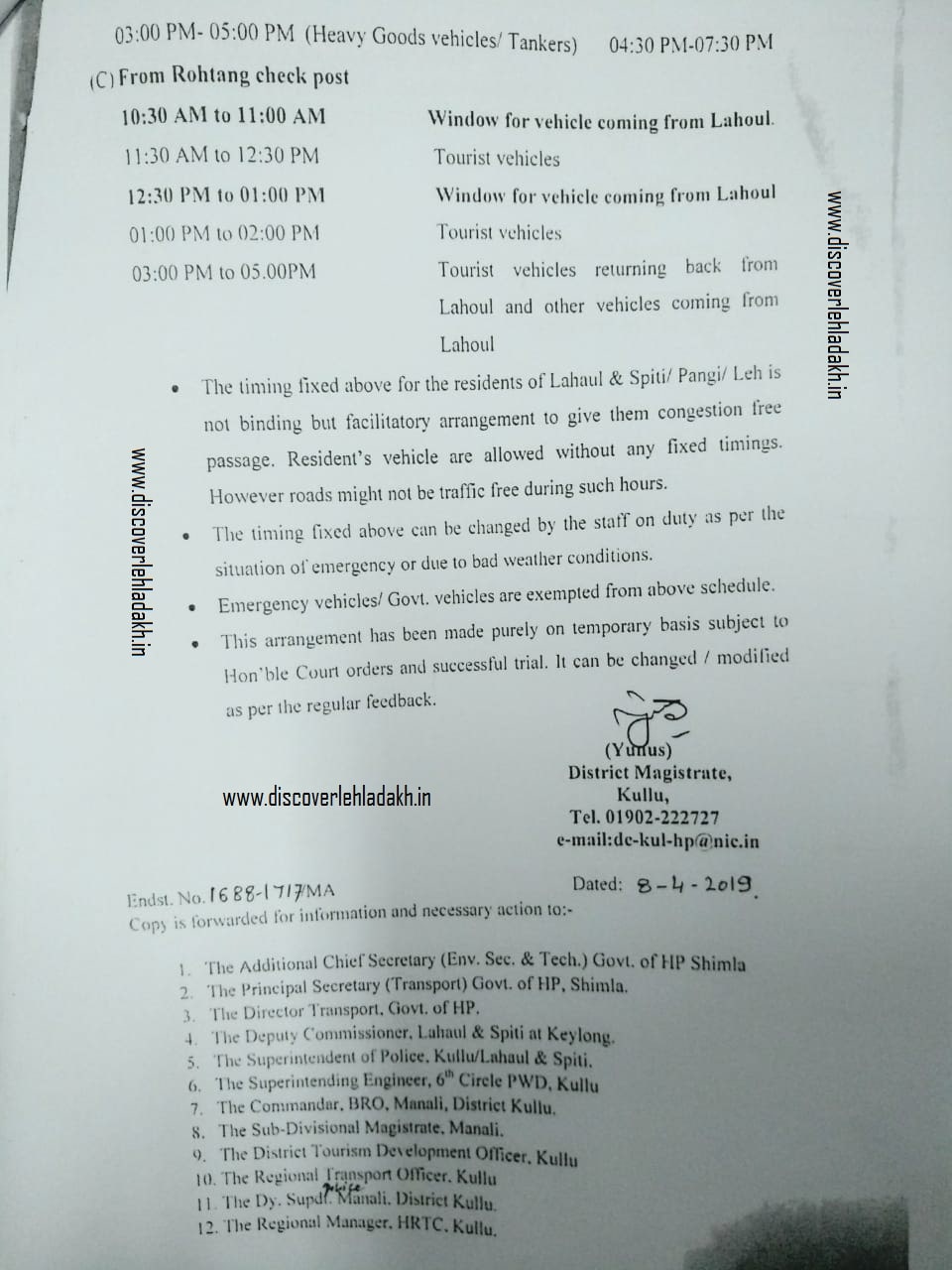 And don't forget to obtain your permit to cross Rohtang pass. Without permit, you cannot cross Gulaba barrier.