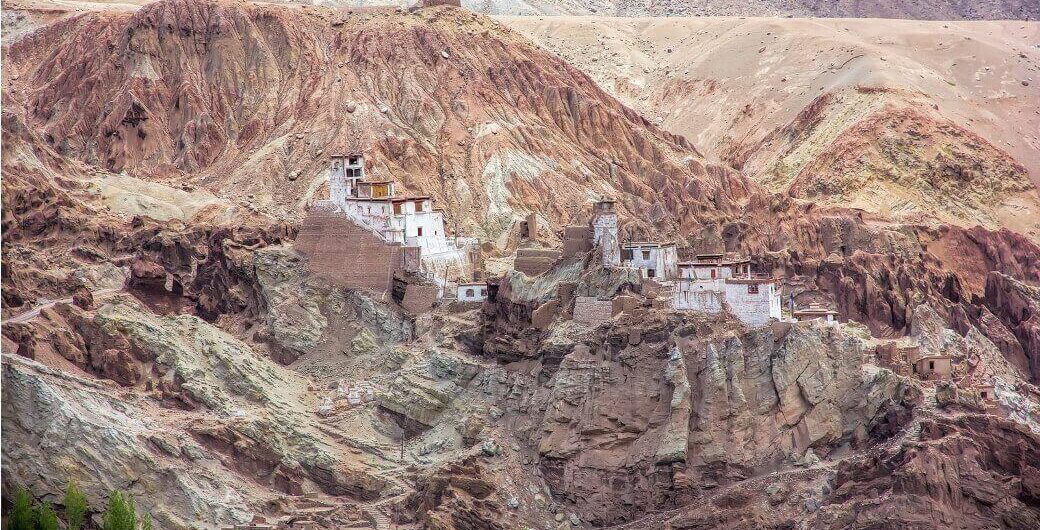 Basgo Monastery or Bazgo Monastery is a Buddhist monastery in Basgo village in Leh district of Ladakh, about 40 km west of Leh town. Basgo is located right to the Leh-Kargil-Srinagar highway before Saspol and Alchi and after Sangam and Nimmoo.
Although the monastery was built for the Namgyal rulers in 1680, Basgo itself was embedded in the early days of Ladakh and is frequently mentioned in the Ladakhi Chronicles when it was a political and cultural center. The monastery is situated on top of the hill towering over the ruins of the ancient town and is noted for its Buddha statue and murals. In the 15th century, a palace was built in Basgo.
The Basgo Monastery complex comprises the Chamchung, Chamba Lakhang, and Serzang temples, dedicated to the Maitreya Buddha. A lot of tourists come here for photography. The amazing complex of Basgo monastery is visible from the Leh-Srinagar highway. After taking two steep hairpin-bends, the monastery is visible even more clear. To experience the real ambience of the place, tourists generally climb up to the main monastery from where entire valley is visible.
Basgo is also a famous shooting spot. Many Bollywood and other movies have been shot here. Shooting of "Satrangi Re" song from the movie "Dil Se", starring Shahrukh Khan and Manisha Koirala was also held here. However, the whole song is shot in Ladakh, the first half shooting is done at Basgo Gompa.
How to reach Basgo Monastery
Basgo monastery is located at Basgo village on the Leh-Srinagar highway, about 40km from Leh, just ahead of Nimmoo (Nimo) village.
Best time to visit Basgo Monastery
Basgo village and Basgo Gompa remains connected with Leh year-round, so tourists can visit it anytime. However, the tourist movement remains almost negligible during the peak winter season. Late April till October is the best time to visit the gompa.