Srinagar - Leh Road (2018):

CLOSE



Manali - Leh Road (2018):

CLOSE



Manali-Leh road closed officially
January 30, 2018:Dauting 474-km-long Manali-Leh highway has been officially closed following several spells of snowfall and depositing of thick layer of ice on road surface. Border Roads Organization (BRO) will start clearing snow from the road from March 1 and the traffic movement on highway is expected to restart by end of May or first week of June.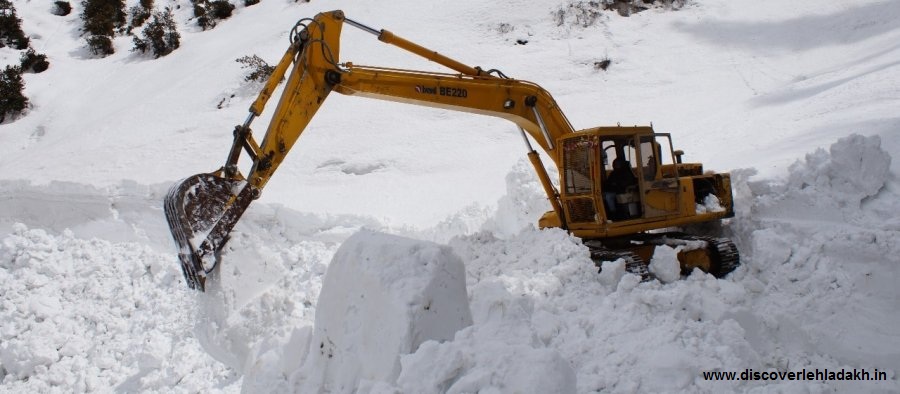 Not only this highway offers breathtaking scenery and attracts thousands of tourists every year, it is also strategically very important for the nation. Though this year entire stretch of highway has received very less snowfall but some stretches at Rohtang pass and Baralacha pass are covered with 5 to 15ft of snow. Small avalanches have damaged road at some places. Even if BRO clears snow from the road, it will be impossible for vehicles to get traction on the road which is covered with frost under extreme cold conditions. The vehicles, these days, cannot move beyond Gulaba, 23km from Manali.
Himachal government had established two winter rescue posts at Marhi and Koksar which have now been removed. High passes, including Rohtang, Taglangla and Baralacha are frequently experiencing snowfall and BRO has also moved back and stopped its road works. BRO is working in lower portions, close to civilization, where temperature is favourable for cement works.
Manali-Leh highway is declared officially closed every year on October 15. After this, no government agency takes responsibility of accident or casualty. BRO stops clearing snow, except for internal roads of Lahaul valley.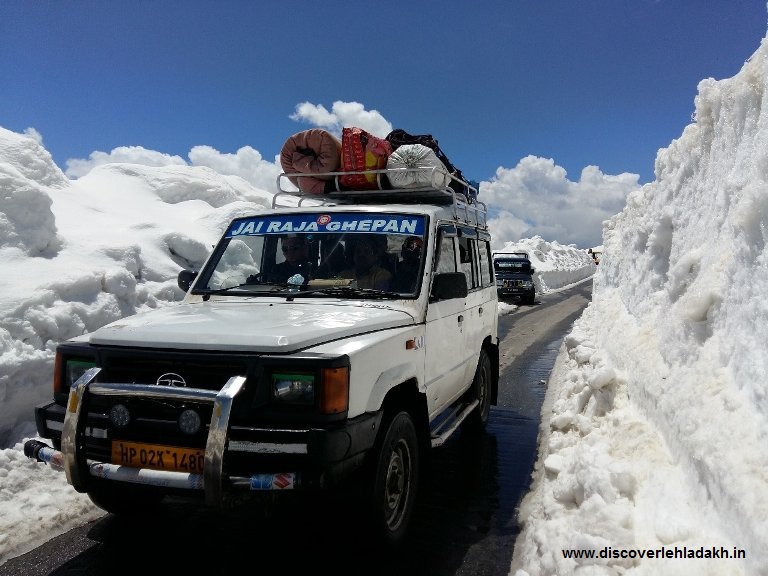 Update on February 7, 2018
Manali-Leh highway may open in record time
February 7, 2018: Border Roads Organization (BRO) is all set to start snow clearing operation on strategically important Manali-Leh highway from March 1. The highway, which is covered with thin patches of snow, may open in record time.
Every year BRO clears snow from the highway from March. Generally highway till Rohtang and Keylong is opened in May and the highway till Rohtang is thrown open for traffic in May end or early June. It was in 1999, 2000 and 2001 when the region along highway had very less snow and Manali-Keylong highway was opened in April. Nearly 17 years after, this year may repeat the history and highway can be opened in April.
Rohtang pass, Baralacha pass and higher areas are covered with a thin layer of snow. Both the passes, which generally remain covered with 20 to 30ft of snow in February, have less than 5ft of snow. Amazingly, region has not witnessed any major avalanche and landslide and the road is not severely damaged. If hills do not get heavy snowfall, it will affect tourism and agriculture but will bring some relief to people of Lahaul in emergency by reconnecting them by road.
38 Border Road Task Force commander Colonel AK Awasthi said though higher areas are still covered with thin layer of snow but snowfall can occur anytime till April. "We cannot predict what will be the condition till March. Still we shall clear snow on war footings and try to resume traffic as soon as possible. We have noticed heavy snowfall in February and March many times. Only time will tell what will be the road conditions. If high walls of snow, ice, avalanches and blizzards will not stop our way, we shall clear snow well within time."
As the temperature is not favourable, BRO has stopped its cement (concrete) works. According to Awasthi, once temperature becomes favourable, they will start several works simultaneously. BRO is concentrating on widening of the highway, building new bridges, retaining and breast walls and blacktopping. BRO will also construct the highway beyond Shinkula pass towards Zanskar valley of Ladakh. If snow continues to deceive mountains, Manali-Keylong highway is expected to open in April and Manali-Leh highway in early May. But, if it snows heavily in next two months, the opening of road can be delayed.
---Stay tuned to get fresh updates---
Disclaimer: The date of opening of Manali-Leh and Srinagar-Leh highway is not determined by anybody as it totally depends on weather conditions. Opening of these highways totally depends on intensity of snowfall in winter months, weather during clearing of snow, more snowfall in April and May months, temperature and many other aspects. Discover Leh Ladakh does not guarantee the accuracy of date of opening of the highway. This is just an estimation made as per inputs from BRO and sight visit by our own team members.